Who are you and where are you from?
My gay bestie calls me "Disco Baby," but my full name is Mikah Meyer, and after becoming the first person to visit all 400+ National Park Service sites in a single journey (3 years nonstop), I moved to Minneapolis, Minnesota, where I'm based as a travel expert, motivational speaker, and outdoors advocate.
What National Park did you visit?
Olympic National Park! It was one of my highest ranked parks, out of a scale of 1 – 10, during the road trip to every Park Service site.
What were you most looking forward to about visiting this National Park?
Taking the Sol Duc Falls inspired design of the Olympic National Park Rumpl to the ACTUAL Sol Duc Falls in Olympic National Park!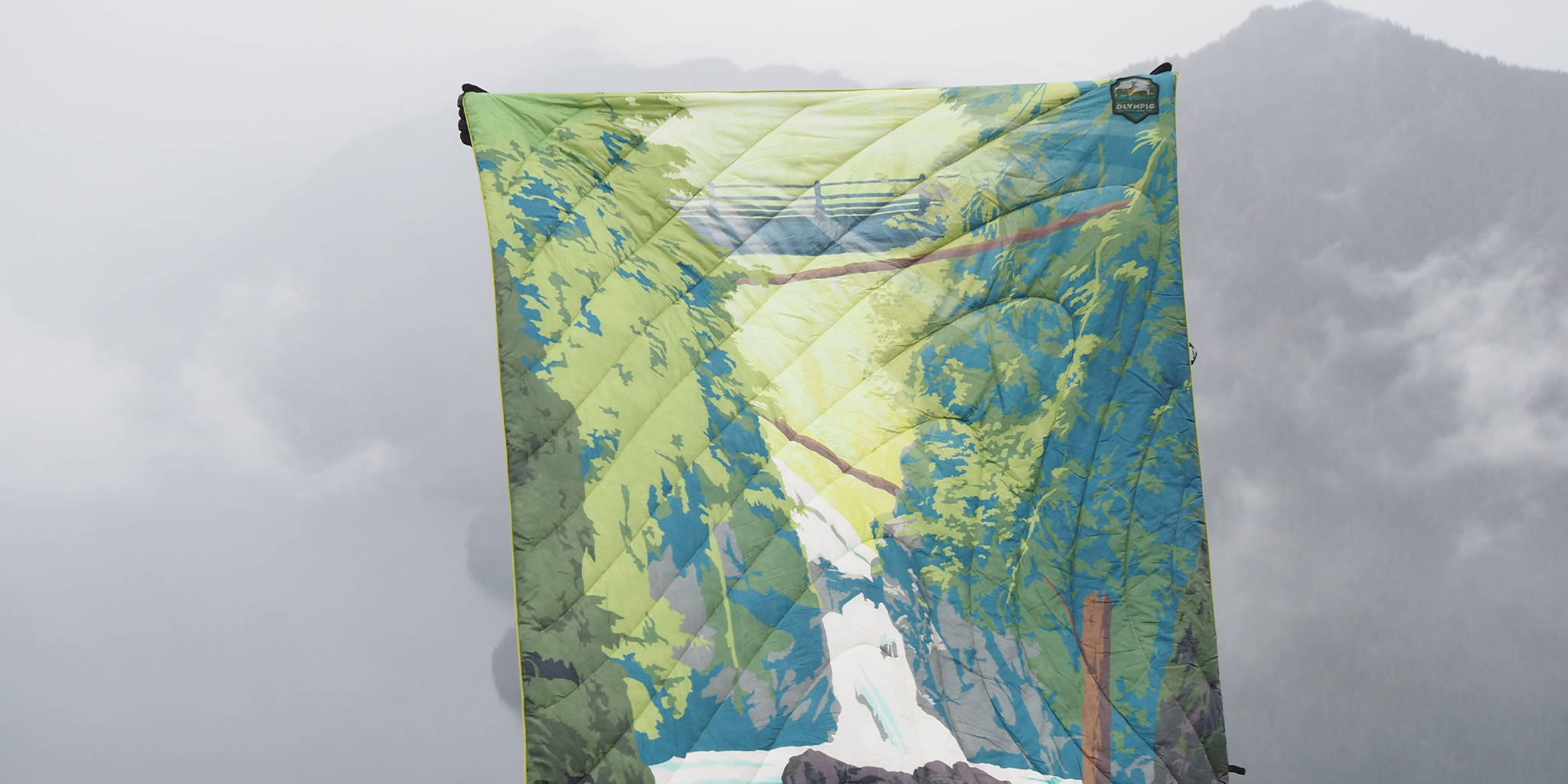 What was your favorite part of the journey?
The scent of the park! Living in a city now, I miss the incredible aromas I got to experience across our diverse swath of national parks for three years! Immediately upon getting out of the car in Olympic, I was reminded why it's so important to take breaks to these wild places, especially when living in a large metro area.
Also, on the drive home, my friend got pulled over for speeding. Which wasn't a favorite part. However, it was the first time in my life I've ever been in a car that was pulled over by a "hot cop." All three queers in our vehicle were very chatty with the officer, so he heard a LOT about our day at Olympic National Park after asking, "Where are you coming from?" (and my friend did get a ticket).

Do you have any tips for anyone planning on visiting this National Park?
Pack for the weather! Even if you visit at the height of summer, it can be very cold in any section of Olympic National Park (there's mountaintops, rain forests, lakes, and beaches all within one park). But it can also be unexpectedly hot and sunny.
So dress in layers, and be prepared for any weather condition…all within the same park…all within the same day!
Also, always stop at the Visitor Center upon first entering any national park. So many visitors skip this crucial step! Park conditions change daily, and it's helpful to get up-to-date information before jumping into the wilderness. The Rangers and Volunteers at each Visitor Center are experts on their park. So why not get a free, expert, local opinion to best spend time in these amazing places?
Did you find any hidden gems along the way?
Unfortunately, the road to Sol Duc Falls was still seasonally closed on the day we arrived (we called ahead, but our Visitor Center visit was the updated info that helped!).
So we kick ball changed and pivoted, instead of taking the Sol Duc Falls Rumpl to Sol Duc Falls, we gave it a full tour of the Park! (Check my Insta at @mikahmey for the video)
So, our unplanned stops to Marymere Falls and Storm King became the hidden gems.
Did you learn anything new during your trip?
Yes! I hadn't been able to complete the Storm King hike on my last visits, but it was stunning. Even with the clouds obstructing much of the view, and the rain coming down hard at some points, it was still a magnificent hike that I'm so thankful I did!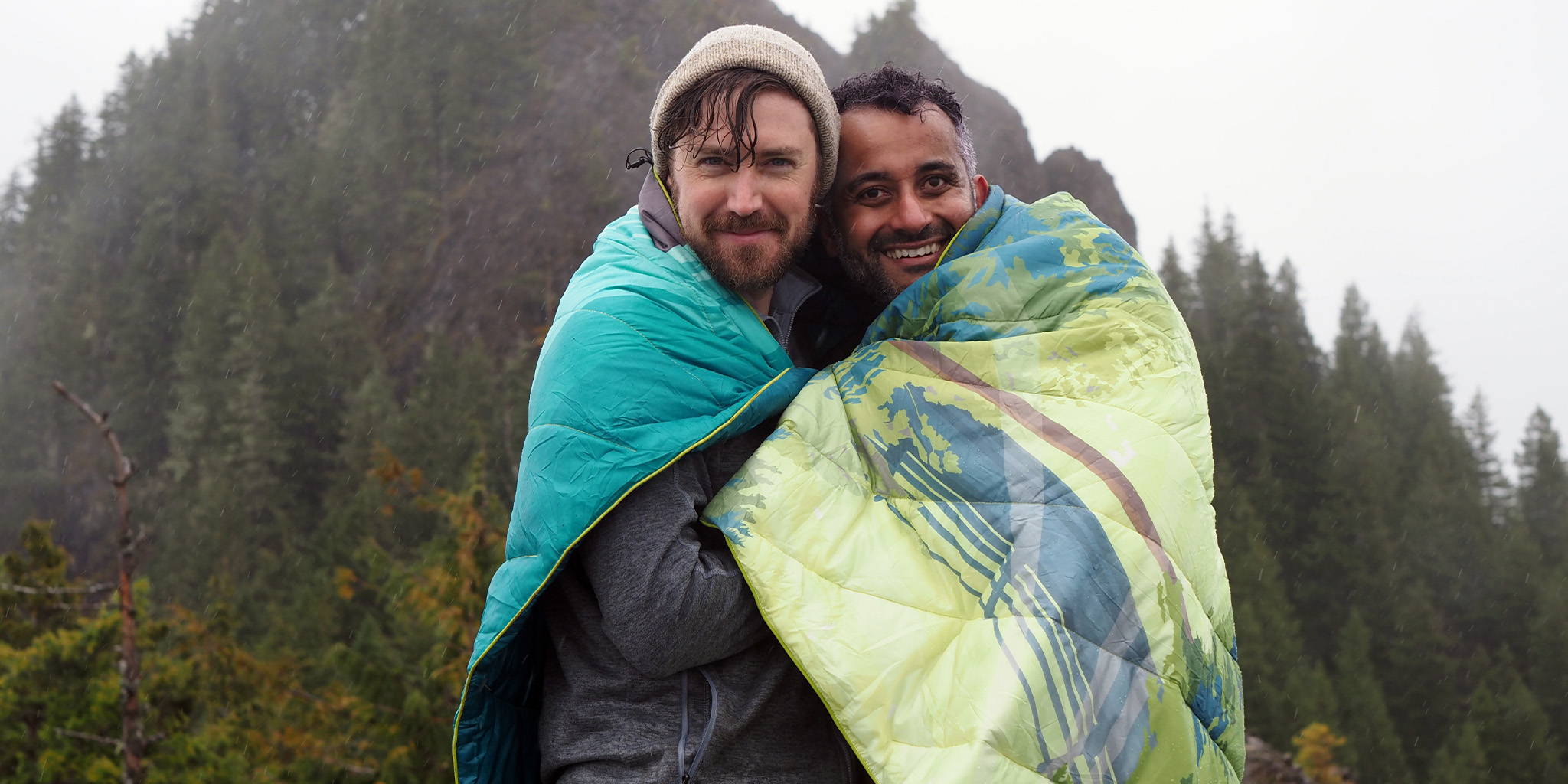 What was your go-to song in the car during the trip?
D.I.S.C.O. by Ottawan
An interviewer recently asked me, "What does the outdoors need more of?" and my knee-jerk reaction was "Disco!". Both the actual music, but especially the attitude.
When I look at what is popularly considered "outdoorsy," it's often the same image of an IPA drinking bearded man in earth tone colors conquering a mountain.The more we can expand the idea of who is outdoorsy and what it means to enjoy outdoor activities (anything from scaling Everest to a family picnic in a city park), the more we'll build the tent of people who feel like they belong in these spaces. That's a huge part of my work with the Outside Safe Space program and helping LGBTQ+ people feel more welcome in these places that have traditionally been uninviting to queerness.
So if I had to sum up that whole attitude in one word, it would be "disco." Or as the song sings…D-I-S-C-O!