Around this time of year most of us set our out-of-office email replies and hit the road to travel home for the holidays. But for some, life on the road makes "home" a more complicated concept. Rumpl caught up with some of our friends who've made travel not just their career, but their way of life to see what "Home for the Holidays" looks like when you're miles away from family, the mall or even a Christmas tree. But don't worry, they still always have an outdoor blanket with them!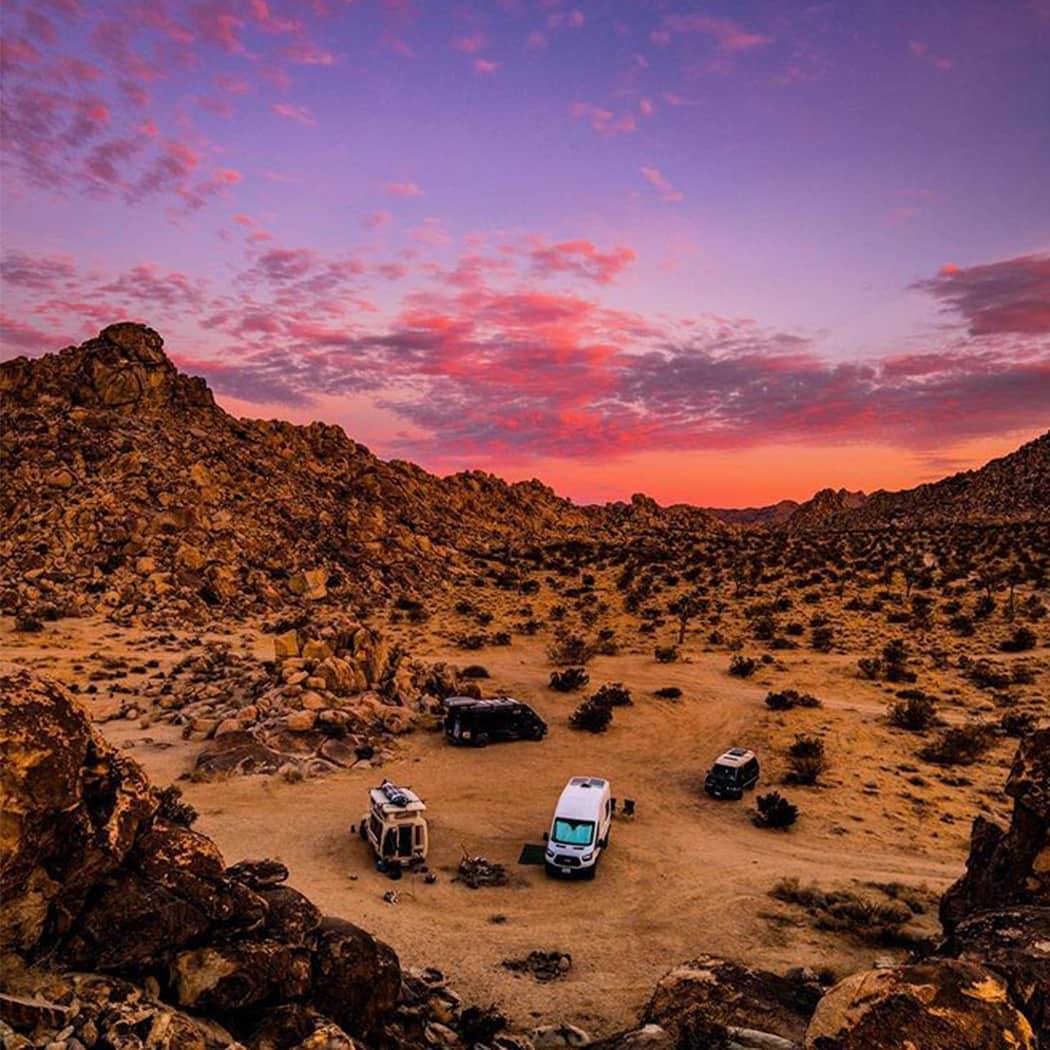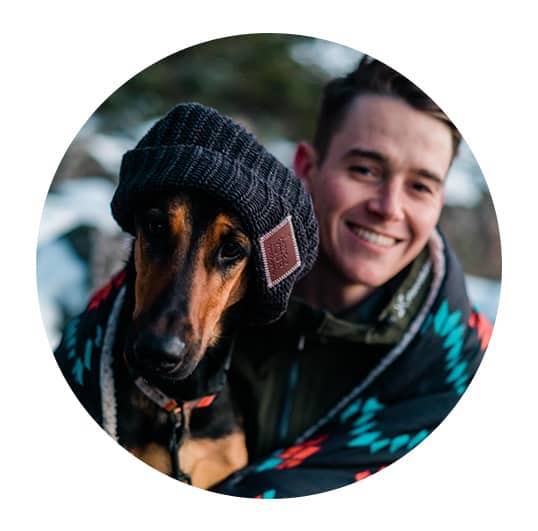 Travis is a photographer and writer who travels North America with his pup Ayla in search of stories to tell.
Last year was the 2nd time ever I didn't make it home for the holidays. I had to shoot in California and couldn't pull off a round trip to Michigan in that timeframe. I was pretty bummed about it since I really try to make it back to see my brother and mom. However, a couple friends and I decided to head to Joshua Tree for Christmas. On Christmas Eve we made a fire and cooked a really good meal.
I had been feeling kind of bummed about the lack of a tree, lights, cookies, and presents; it really just felt like any other trip to Joshua Tree so the day before Christmas Eve I made a special trip into town. I got everyone a bundle of wood, some Home Depot gift cards, candy, treats for all our dogs, a card, and then a little something special and unique for each van that was there. I wrapped them all after we went to bed on Christmas Eve and then snuck out and left them outside their van doors to wake up to in the morning. Everyone probably had five or six wrapped gifts in a pile that were "from" different Christmas Movie Characters (Buddy the Elf, Frosty, The Grinch, Rudolph etc.). I've always liked giving gifts but it felt especially good knowing everyone would have that Christmas morning feeling. It really was a good memory and solidified that feeling of community we have out here on the road.
---
Jace and Giddi Carmichael
Jace, Giddi, Juniper and Lotus run Our Home on Wheels, where they take their passion for nature and the outdoors and turn it into a daily happening.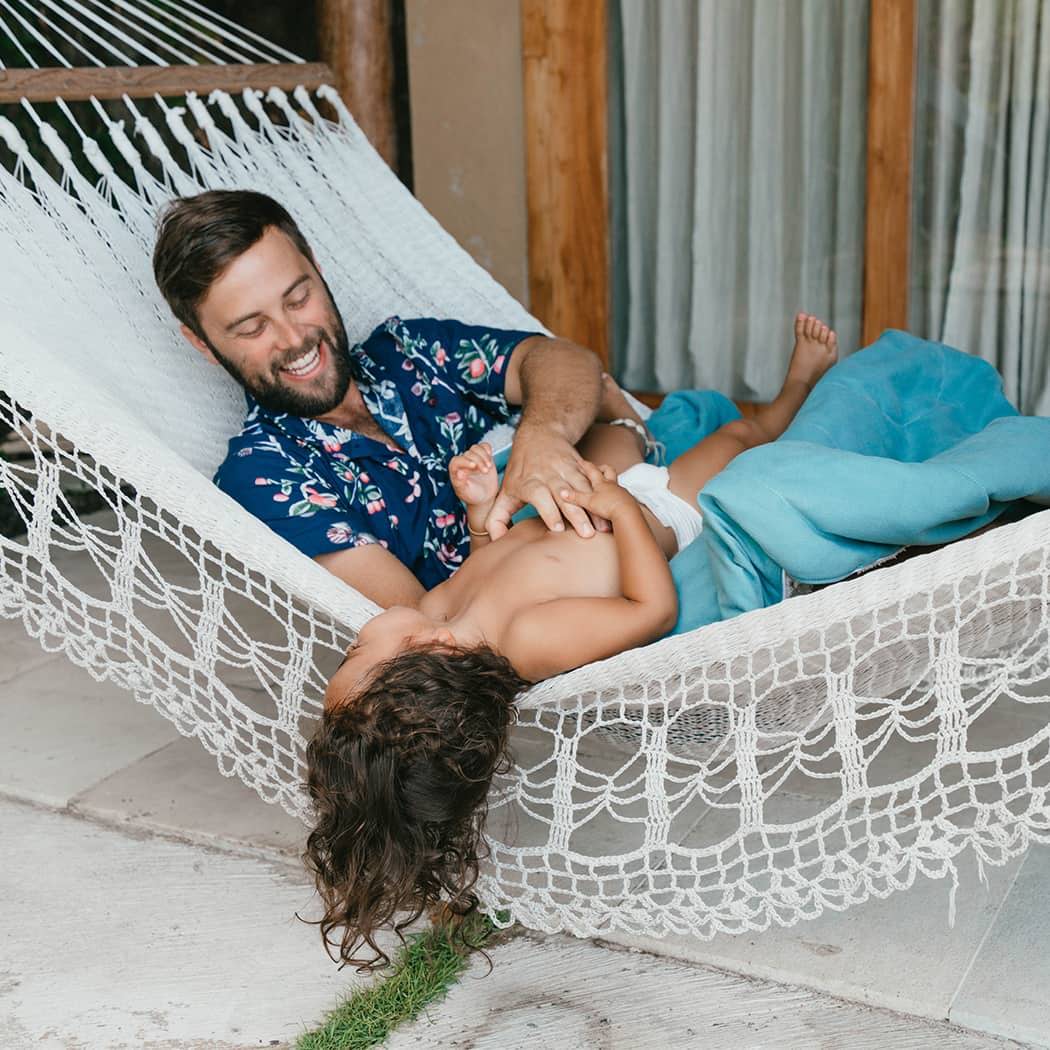 "Home" is an interesting concept for us. It sounds cheesy, but home is really wherever we are. We've spent so much time traveling the last few years that home is more of a feeling than a place. For the holiday season, lots of sweets, warm clothes and blankets by a fire with something warm to drink really gives us a "holiday" feel. If we can be around family this time of the year, we will almost always choose to be. Family relationship is pretty important to us, even if were away from everyone the majority of the year.
---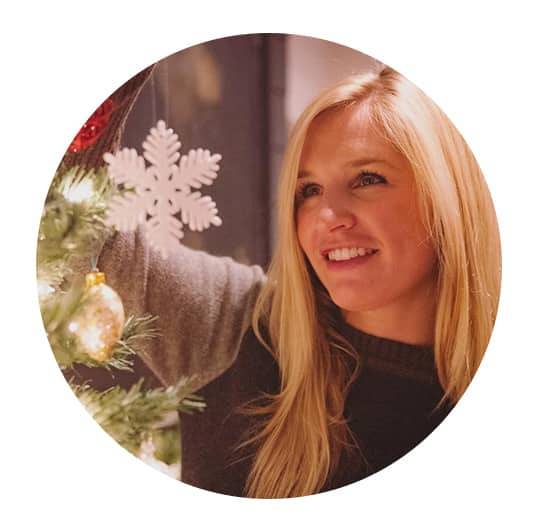 Amie is a skier, action sports model, field correspondent and travel host from Lake Tahoe, CA
Luckily for me I live in Lake Tahoe, California and I always try to spend the holidays at home because I like to be able to ski. To this date, I have never ever missed a holiday for a ski trip, but most Christmases I go out skiing. We usually open one present Christmas Eve— which we've done since I was a little girl. And then when we wake, instead of doing a traditional Christmas morning, we go skiing because usually no one else is out there. Then we come home and open presents in the evening.
For me the holidays is a kick-off to winter, which is my favorite season. What I do revolves around snowy mountains, so it's always a big part of my holiday tradition.
---
I think in a lot of ways travel has replaced certain rights of passage for our generation. When I first set out I tried to wander as far across the globe as I could and almost made a point of finding myself in foreign cities where you would be hard pressed to find a Christmas tree or Santa hat outside of a western shopping mall. This push to explore and to be independent felt like a declaration of my identity and as I missed one holiday after another I became the sister, daughter and cousin that wasn't there.


As I've grown older and what I seek out while traveling has changed, I make it a point to be home for at least one big day when the family will be together. For all the times that I can't make it back, genuine human connection and acting with intention is what makes an experience meaningful and the miles traveled, worth it. These moments can take so many different forms and have varied from being invited into a wedding on Christmas while wandering the winding streets of New Delhi, spending the night beneath stars with two travelers and a Bedouin family in the desert on the border of Tunisia or simply making a Mexican feast for friends in Bavaria.


While long term traveling has become more normalized in recent years, it can still be difficult to explain your absence to loved ones. After all, it's not a job that is keeping you away for the holidays, but a choice to be out in the world. For the special days that I'm not able to be home, I write letters, stay up late or wake up early to make phone calls back to the time zone where the people I love are gathered and immerse myself as deeply as I can in whatever place I find myself. If I am in nature, I spend the day hiking and appreciating the beauty that surrounds. If I happen to be in the middle of a large city, I walk and quietly take in the people that rush around the sidewalks, the cafes and the hundreds of subtitles that make up a place and culture. In each of these settings I try and engage as often as possible with the travelers and locals I meet. I love asking questions about their lives and about the things that bring them joy. I love trying food that is filled with spices that are so different than those at home. When I am away I want to engage my senses as often as possible and through this, learn to look at life through a different lens.


Ultimately, being away from home on the holidays as a traveler is a choice and can be as beautiful or as lonely as you make it out to be. No matter what you call "home" this season, may it be filled with wonder, new experiences and thoughts of the people that have made you brave enough to end up where you are now.