The Rumpl Artist Division (R.A.D.) is a collaborative program that showcases the work of accomplished and upcoming artists who use diverse mediums to inspire creativity in impassioned communities around the world.  LEARN MORE >
Nathan Brown is a Nashville-based artist and muralist who draws inspiration from skateboarding, travels, painting graffiti, gradient color palettes in nature, city life, and structural lines in architecture. Nathan Brown also designed the mural at the Rumpl HQ!
Where are you from and how would you describe the type of art that you create?

I am originally from Los Angeles and moved to Nashville when I was 12. What started out as traditional graffiti when I was younger, morphed into geometric gradient landscapes over the years. I play with shapes and colors that tend to have rigid and organic elements.

Are there any themes you incorporate into your art?
No real themes or stories, just mainly inspiration from the surroundings of the space i'm painting. Color is the theme ;)

Why street art? What draws you to such a large canvas?

Moving to the south in the early 90's was a big culture shock for me and I had just started skateboarding, so I threw myself into that because I missed LA, the culture, the food, the murals and graffiti. I guess I wanted to bring all those things to Nashville, so when skateboarding became my main outlet, I started traveling for skating once I got a car, which also led to painting graff more.

 

Painting graffiti when I was younger, the idea was to go big, so I've always gravitated towards larger scale work, I can see large scale ALOT easier than on a little canvas. I love painting buildings, they're just so much more interesting than a canvas to me. I remember first seeing artists like Barry Mcgee, Shepard Fairy, and Kaws paint other stuff besides typical graffiti letters and I was instantly fascinated with "street art" and the new world it opened up for me.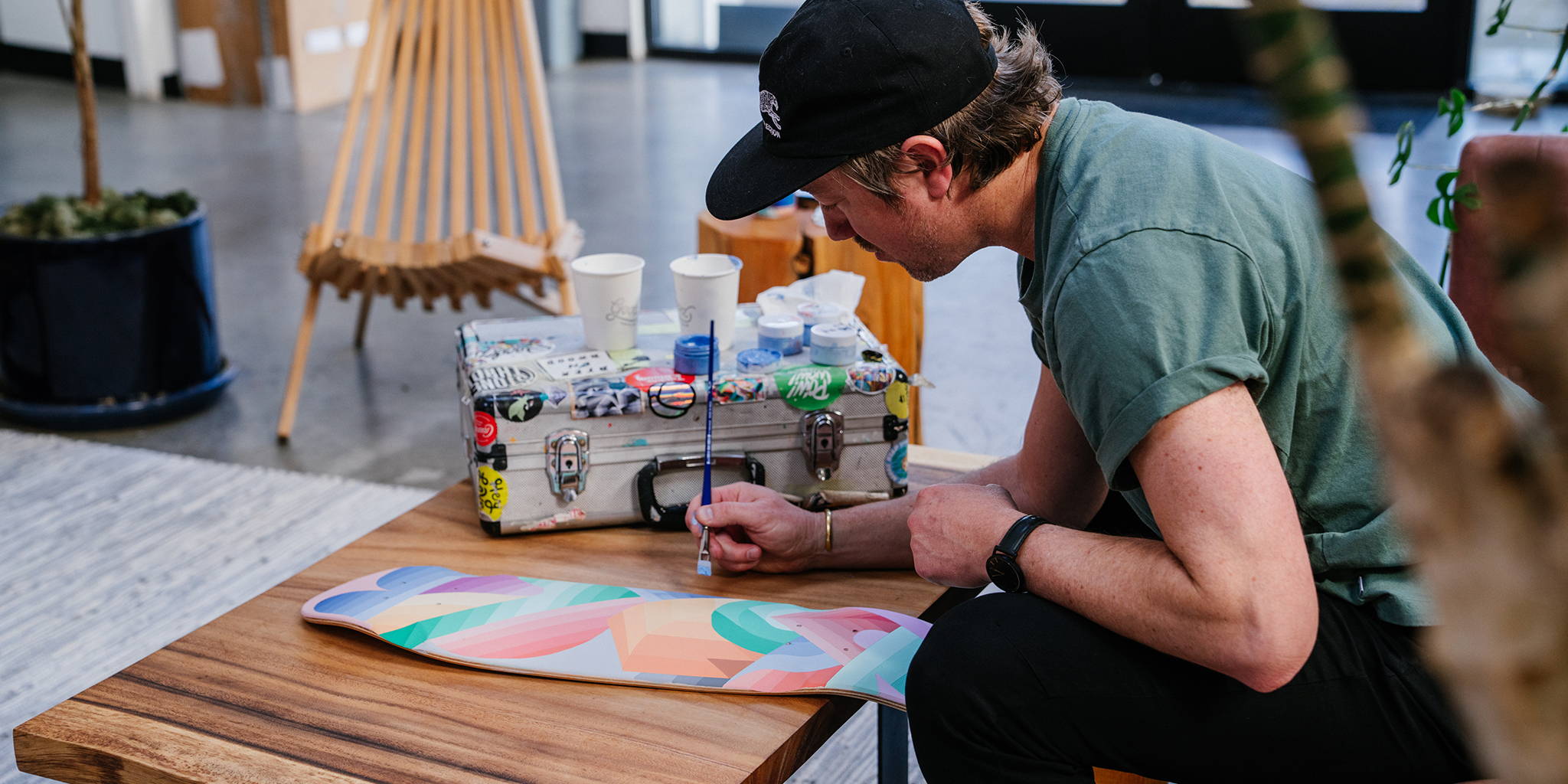 You worked on a mural for our Rumpl HQ. Tell us about how you first connected with us!
I think Wiley dm'd me out of nowhere, haha! Was a cool surprise. We had a quick chat about my work and if I wanted to grace the walls of the new Rumpl headquarters. Of course I said yes ;) Big fan of Rumpl.
What was the process like taking your designs from the street to Rumpl's product?
So admittingly, I'm not a graphic designer by trade, so designing for print like this was a fun challenge. It was an incredible process from start to finish, the Rumpl team pushed me to be a better designer and helped me through the entire process, sending samples my way to test out, check colorways and how it all translates to an array of products. I really love how everything turned out.
What's your biggest motivation for creating?
The opportunity to transform a space is way up there for me, seeing people happy because I brought color and life to a space is a huge motivator. Seeing the potential of a wall, reminds me of skating, seeing the potential of a handrail, curb or ledge and the many hours of joy it could bring.
Tell us about your passions and how they transfer to your pieces.
Everything I've done and everything I do now, all stemmed from skateboarding in some way or another. My passion for skating led me to graffiti, which led me to street marketing, which led to promoting concerts and producing festivals for years. I took all of that experience and gave being a full time artist a shot after getting my first commission from a beer company I was working with. I love to travel and painting murals full time over the past 7 years has led to almost full time travel. I truly want to see as much of the world as I can. All of those experiences throughout my life go into my work, like the nostalgia of doing all of those things and how they made me feel. Art is my therapy. I am also very passionate about the environment, which transfers into my pieces as certain colorways & organic shapes, as well as being very mindful of the products I use to create.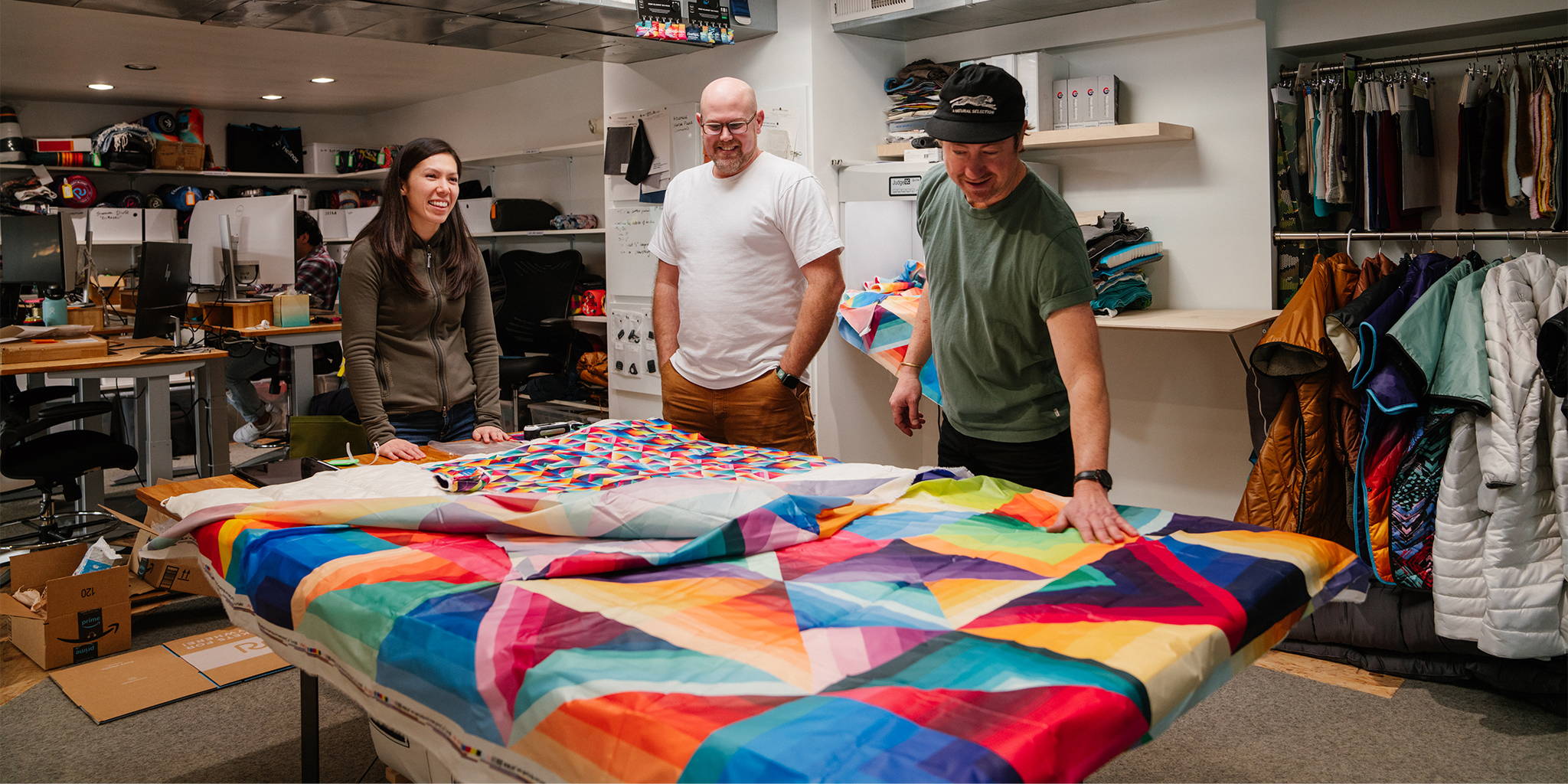 Is there a specific environment or material that is integral to your work?
I love painting public art, being outside, meeting new people and learning about a place I've never been to. It's wonderful. Spray paint is my fave thing to work with, but big murals usually call for bucket paint and sprayers.
What's one goal you have for yourself this year?
I would love to be able to do another donated mural in a neighborhood that needs some love.
Best piece of advice you've been given?
" Boy, If you're truly passionate about something, you'll figure out how to make a living at it." - Uncle Keith

Follow Nathan Brown at @nathanbrown77>
Learn more about the Nathan Brown here>
SHOP THE NATHAN BROWN COLLAB