THE BASICS
 
Name:

Residence:

Occupation: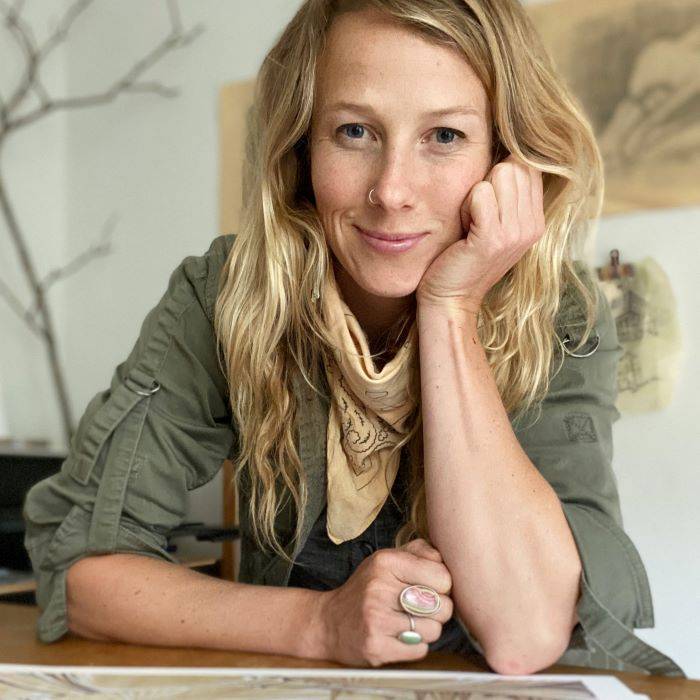 The Rumpl Artist Division (R.A.D.) is a collaborative program that showcases the work of accomplished and upcoming artists who use diverse mediums to inspire creativity in impassioned communities around the world.  LEARN MORE >
Gretchen Leggitt is an artist whose large murals and illustrations explore a diverse range of subject and medium, evidence of her passion for expansive investigations of the creative world. An avid adventurer and traveler, Gretchen's playful subjects are mused by influential places that have caught her eye along the way. Many of her patterns and landscapes are reflections of her roots in the Southwest, along with the cultural and natural influence of her current home in the Pacific Northwest. She resides, recreates and creates in Bellingham, WA.
What's your name, where are you from, and how would you describe your art style

Hi, my name is Gretchen Leggitt. I live in Bellingham, WA where I paint murals and fine art that depicts my unique perspectives of the natural world, encapsulating the energetic movement of the elements and the nuanced geometry of topography, all represented through bold colors. I love to paint BIG, which includes having painted the largest mural in the state of Washington, which is the length of two football fields by 60' tall!
What motivates you to create? Where do you draw your inspiration from?
I was born the daughter of two artists, so my desire to create has been ingrained in me since I was a baby. I draw inspiration from the natural world and the playgrounds in which I recreate. As a passionate splitboarder, mountain biker, climber and trail runner, I am always deep in the wild, which is where I am in my happiest place, which I want to express in my artwork.
What sort of themes do you incorporate into your art and designs?

When one is recreating in the wild, you are constantly admiring and reacting to topography and the elements. From studying the geometric facets of a rock you are about to climb, or analyzing the angle of a snowy slope to determine avalanche safety, we are continually studying topographical features. I represent these observations abstractly in my work. Second, the elements, like sunlight, wind or snow are all so kinetic and relevant to one's experience in nature. I want to capture the vibrant energy of these elements in my artwork through my lines and colors. Van Gogh once said "Nothing is still. Everything is moving." He couldn't have expressed it any better.
Tell us about your passions and how they transfer to your work.

My greatest passion beyond my recreational pursuits, is to create a positive impact in communities. We've all got one shot at this life, so why not leave the world a better place. I feel like I achieve this through painting large scale public murals, activating and beautifying neglected public spaces. In addition, I have been mentoring indigenous artists in our community and creating placemaking opportunities to get Salish Art into our public domain. There are too many native voices that have been lost and too many artists who have not been given an opportunity to shine. My goal is to facilitate this. To see people and to make them feel heard. Learn more at

Paper-Whale.com
What was it like bringing your art to life on Rumpl's blankets? Can you tell us more about your design and the inspo behind this design/color palette specifically?
This blanket is inspired by my roots growing up in the Southwest. When I think of "blanket" I am wisped away to cold mornings in New Mexico, wrapped up, gazing over the sun setting across vast fields of sagebrush and red rock. This design was inspired by raft trips we would take, floating on stunning rivers amidst fortresses of sandstone, with stunning light bouncing between the water and walls.
Favorite mural or project you've ever done?
I don't have favorite murals, but I have a favorite moment. It was when I was painting my very first mural and folks were driving or walking by hollering "thank you!!" The response and words of gratitude I received while putting up my artwork, was the first time I recognized that my artwork was creating POSITIVE IMPACT on others. For so long, I felt like artwork was so insualar but now it was causing ripples and waves. That was a pivotal moment in my life which changed my career trajectory.
What does the perfect Sunday look like to you?
Watching the sun rise from high on a ridge, curled up in my sleeping back, crisp air in my nose, while sipping on hot coffee. Followed by a day of pushing myself and breathing hard. Ending with a fresh meal from my garden and cuddles with my cat Zeppelin.
What's the best piece of advice you've ever received?
Adventure is inconvenience reconsidered.
What's next for you in 2023? What's coming up?
Noisy Waters Mural Festival in Bellingham! I am co-founder of this festival which is bringing in 28 artists from around the world, including representation from 10 tribes across North America to live paint and put up some incredible artwork. Check it out on August 18-20th. Aside from that, my partner and I are looking forward to taking our gravel bikes and mountain bikes to the East Coast, to slow roll down the Atlantic and discover new lands, cultures and foods!