Inspired by his love of the ocean, artist and surfer Erik Abel used bright, bold colors and geometric patterns for our capsule collection. Featuring two Original Puffy Blankets and an Everywhere Towel, this partnership was made for a day on the beach.

Where are you from and what type of art do you make?

My name's Erik Abel. I'm an artist in Southern Oregon. I love to paint. I love to draw.

Tell us a little bit more about our collab.
Rumpl hit me up and wanted to do a collab with my art on some of their blankets and towels. And I was stoked! I looked into Rumpl a bit more, and it was kind of right in line with what I've been doing as far as trying to get everything a little more eco-friendly, little less impact on the planet, filling their blankets with recycled bottles.

What themes are consistent in your work?

You're not gonna see anything man made in my art. We see enough of that every day. I think making art is just an escape from all that for me.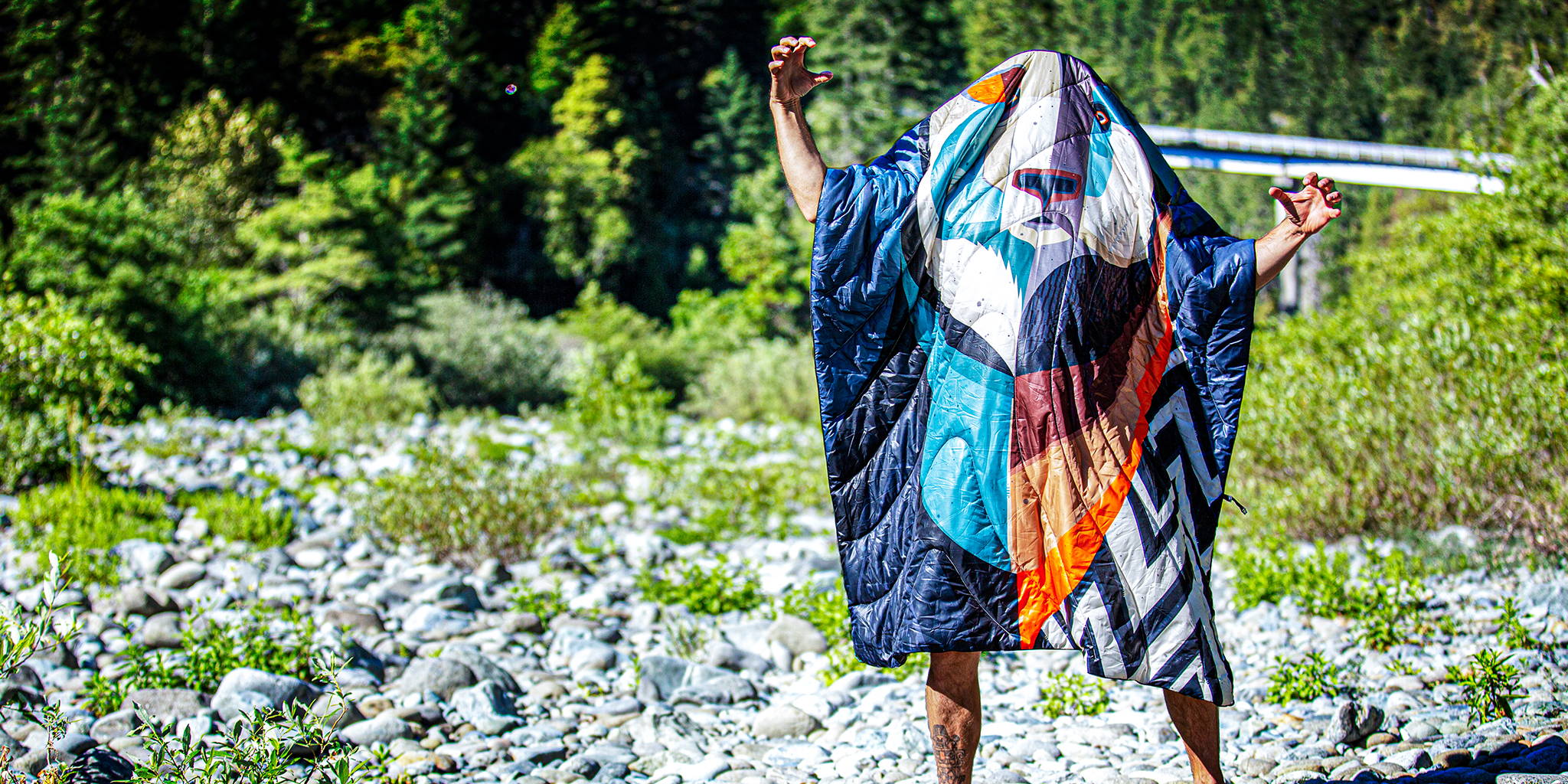 What is something that has had an influence on you and your artwork?

A couple years ago I had a major eco freak out, and just started taking inventory of everything that I was doing in the studio and in the business, and tried to figure out how to make it more animal, earth, and human friendly and just doing even little things like getting rid of plastic tape and using paper tape. And getting rid of styrofoam or reusing styrofoam, and bubble foam packing whenever possible. And, you know, bringing in recycled paints and searching out other mediums that are just better for the environment.
And so, yeah, just working with companies that have that same vision and want to be doing better. I love working with companies that kind of fall in line with what I believe in.
Any specific reflections you've had when creating Yogi Bear or Salty Mountain Air?
We used the Salty Mountain Air graphic on a blanket and one of the Everywhere towels. And that was just inspired by, you know living here in the Northwest, going down to the beach, having these beautiful coastal mountain ranges, going right into the water and just smelling that sweet, salty air, having that breeze. It's just magical here.