---
You can plan all you want for a perfect National Park road trip, but sometimes you get thrown a curveball.
On a recent visit to Utah, we ended up getting to Arches National Park right at the tail-end of the recent government shutdown. That meant the parks were "open" (because it's impossible to physically close a 120 square mile swath of red-rock canyons) but not exactly "open for business." After reading about the impact unsupervised tourists were having on the parks during the shutdown, we took a detour to explore some other things to do near Arches in place of the park itself.

After pouring over an Arches National Park map and a few beers at Moab Brewery just outside the park, we put together a mini-road trip, making a loop through the southeast corner of the state in search of state parks and monuments we could enjoy until the National Parks reopened. Our first stop, just 90 minutes west of Moab is home to one of the darkest night skies in the country; Goblin Valley State Park.
The leftovers of an ancient seabed, Goblin Valley looks like a completely alien world (fans of the film Galaxy Quest will recognize the setting immediately). To say this park is out of the way is an understatement; bring food, gas and plenty of supplies if you're planning to spend the night. Compared to the relative civilization of Moab, you are in the middle of nowhere. Therein lies its biggest draw. Nighttime in Goblin Valley lights up with a spectacular Milky Way sighting, filling the sky with millions of stars. If you visit off-peak (like we did) you have a good chance of reserving one of the two yurts at the entrance to the park for an overnight stay in relative luxury with our outdoor blanket. If not, drive your camper van down the road and meet up with other van-lifers who have likewise wandered down the unbeaten path.

Unlike many of the National Parks, where staying on the path is expected, the ancient seabed is open for you to wander and lose yourself among the hoodoos. They are delicate, though, so keep the ground level; pretend you're a prehistoric hermit crab scurrying around the rocks hiding from mega-sharks. After a few winding turns, you can pretty quickly lose sight of the parking lot, so add a little extra time to your schedule to get back to your car.
Once we were done exploring Goblin valley, we drove south through Hanksville towards Monument Valley. The fastest way there takes you through one of the scariest roads in America; the Moki Dugway. Made of one-lane loose dirt roads, this palm sweat-inducing series of switchbacks is all that's leftover from an old mining operation. It's not for the edge-o-phobic (or cars, especially in winter). But if you're brave and careful, it's a pretty thrilling 1,200 ft. descent over just 3 miles. No railings, no turnouts. If you come across a car in the other direction, we honestly don't know what to tell you. If you do make it to the bottom with your nerves intact, you're only about 30 minutes from Monument Valley.

Monument Valley isn't a National Park, a fact that consistently surprises us every time we visit. It is, however, what everyone thinks of when they think of "the west." But long before John Ford used it as his personal back lot, it was (and still is) a site of great importance to the local Navajo population.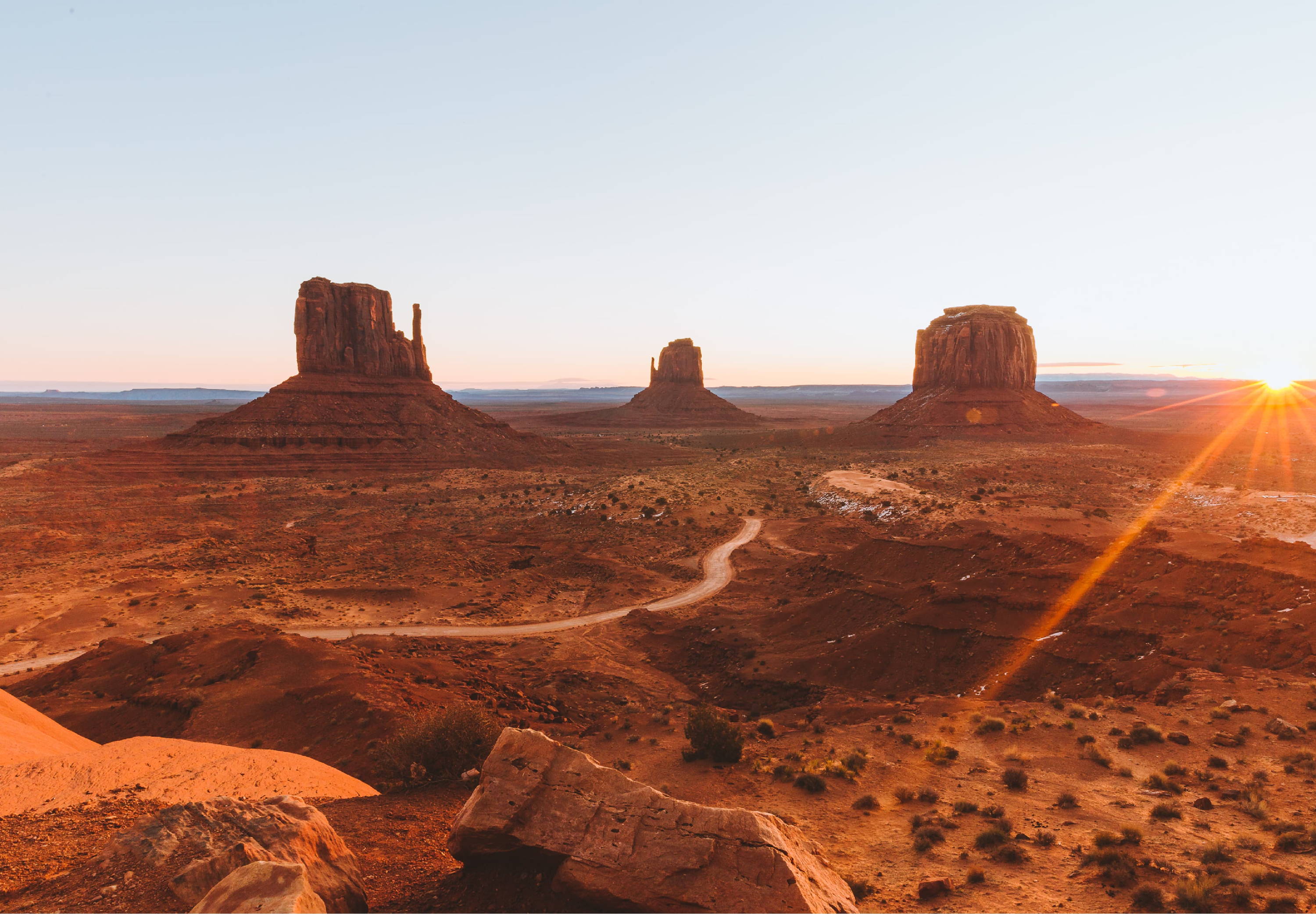 If we're being honest, there's not much to do in Monument Valley. If we're continuing to be honest; we love that fact. There is little to distract you from just sitting and quietly contemplating how small, young, and fidgety we are, compared to these millions of years-old formations. We woke up early to catch the sunrise, then got the push-notification we were waiting for: the government was being reopened! We packed our gear and drove north back to Arches (we skipped the Moki Dugway this time; we already plucked a few dozen gray hairs out of our scalp from the drip down).

We rolled back into Moab at the end of the day and geared up for an early morning hike to catch the sunrise at Delicate Arch. Check back next week and join us as we finally explore the park and search for some perfect hidden gems to add to our #FindYourView collection.