---
Yosemite National Park welcomes over 4,000,000 visitors every year. You wouldn't believe that number if you visit in the middle of February, though.
Roaming the park in the dead of winter gives you the same feeling of being alone with unspoiled nature as John Muir felt when he first wandered into Yosemite valley over a century ago.

Your options getting into Yosemite National Park mid-winter are limited. Entering from the east is out of the question; Tioga road is closed November to May, and is generally buried in dozens of feet of snow. The other entrances, from the south through Mariposa Grove, or from the West through El Portal and Hodgdon Meadow are generally open year-round. Check Yosemite's site before you hit the road, though.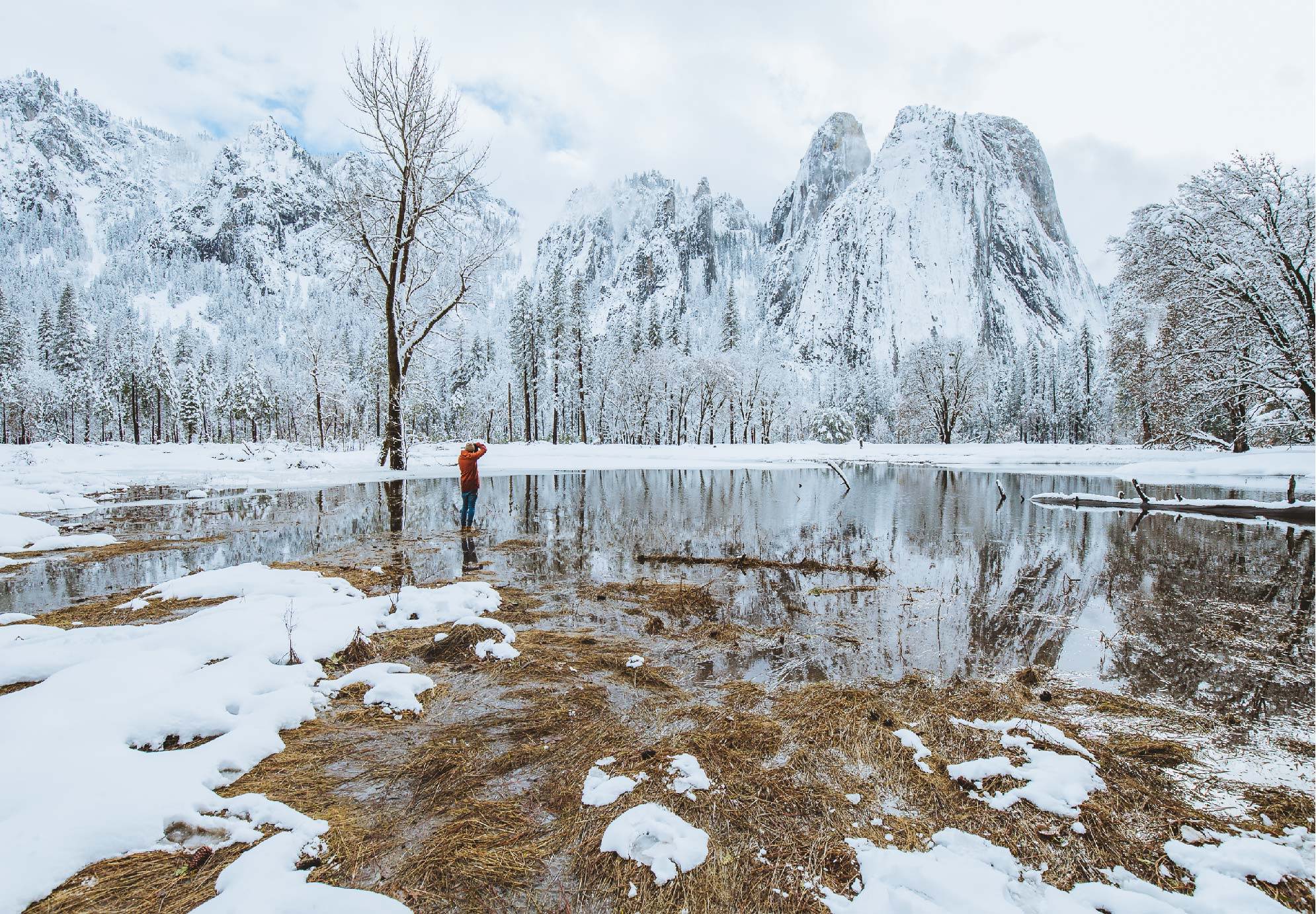 No matter how you get to the park, you'll need to prep for snow (and lots of it). The valley floor sits at 4,000 ft above sea level, so you'll need your trusty old Danner boots to hoof it through the deep snowpack. Even better, bring a pair of snowshoes or cross country skis to work your way around the park in speed and style. Yosemite National Park has miles of machine-groomed cross country ski trails, as well as ungroomed trails for you to chase after hidden gems. If it's your first visit, take Glacier Point Road for an easy, classic out-and-back trip. If you're looking for a high-effort, high-reward trip, the short but steep Merced Grove Trail drops you into a grove of giant sequoia trees. Even the deepest powder looks like a dusting at the base of these trees. It's :chef kiss emoji:
Anyone that grew up taking road trips to different National Parks remembers snacking on floppy chicken fingers and premade, refrigerated cold cut sandwiches the entire trip. So we were surprised to find the dining at Yosemite lodge to be pretty dang good. The park seems to know its core audience pretty well, serving up the new Beyond Burger on a gluten free bun. It's like we didn't even leave Portland.

Outside of hiking, skiing and snowshoeing, the one sport most associated with Yosemite is rock climbing. El Cap is the Everest of rock climbing (obligatory plug for the Free Solo film. Go watch it; it's captivating). Outside of a legit snowstorm, you'll see climbers scurrying up the granite monolith, practicing their lines. A short hike from the visitor center will bring you to the base of the rock face. From there a pair of binoculars or a zoom lens will let you see climbers up close and personal.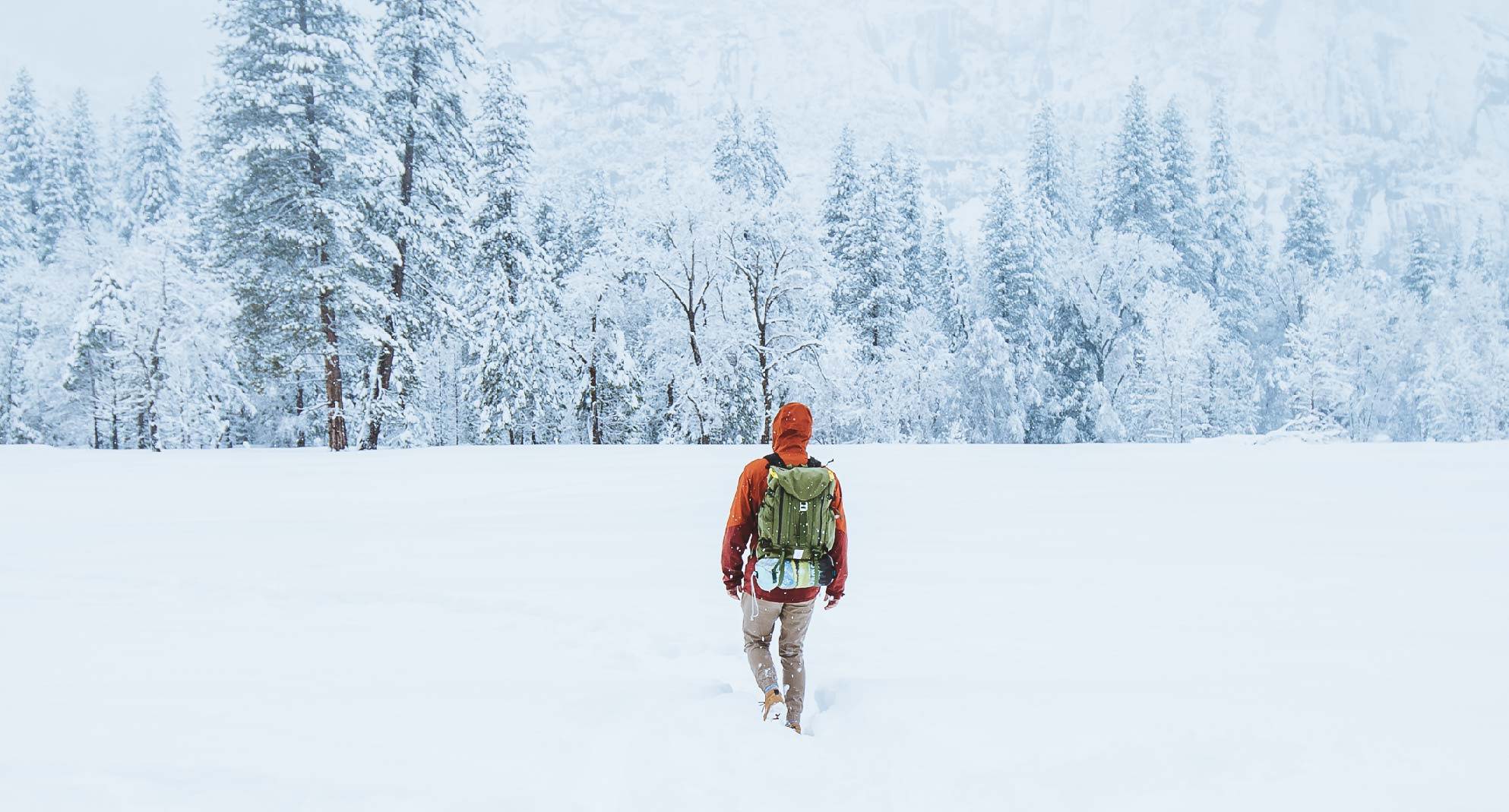 The one draw that does bring winter visitors in droves is, literally, lit AF. Yosemite National Park is well known for its dozens of waterfalls, but one stands out in the winter months. A trick of the light during a handful of sunsets in late February makes Horsetail Fall light up like a molten lava flow. It doesn't happen every year (it needs to be warm enough, so the falls aren't frozen, and clear enough for the sun to shine through), but it's worth rolling the dice for the chance to experience it. Luck wasn't on our side this year; Horsetail Fall thawed out and put on a spectacular show literally the day after we left. Oh well; we needed an excuse to come back next year.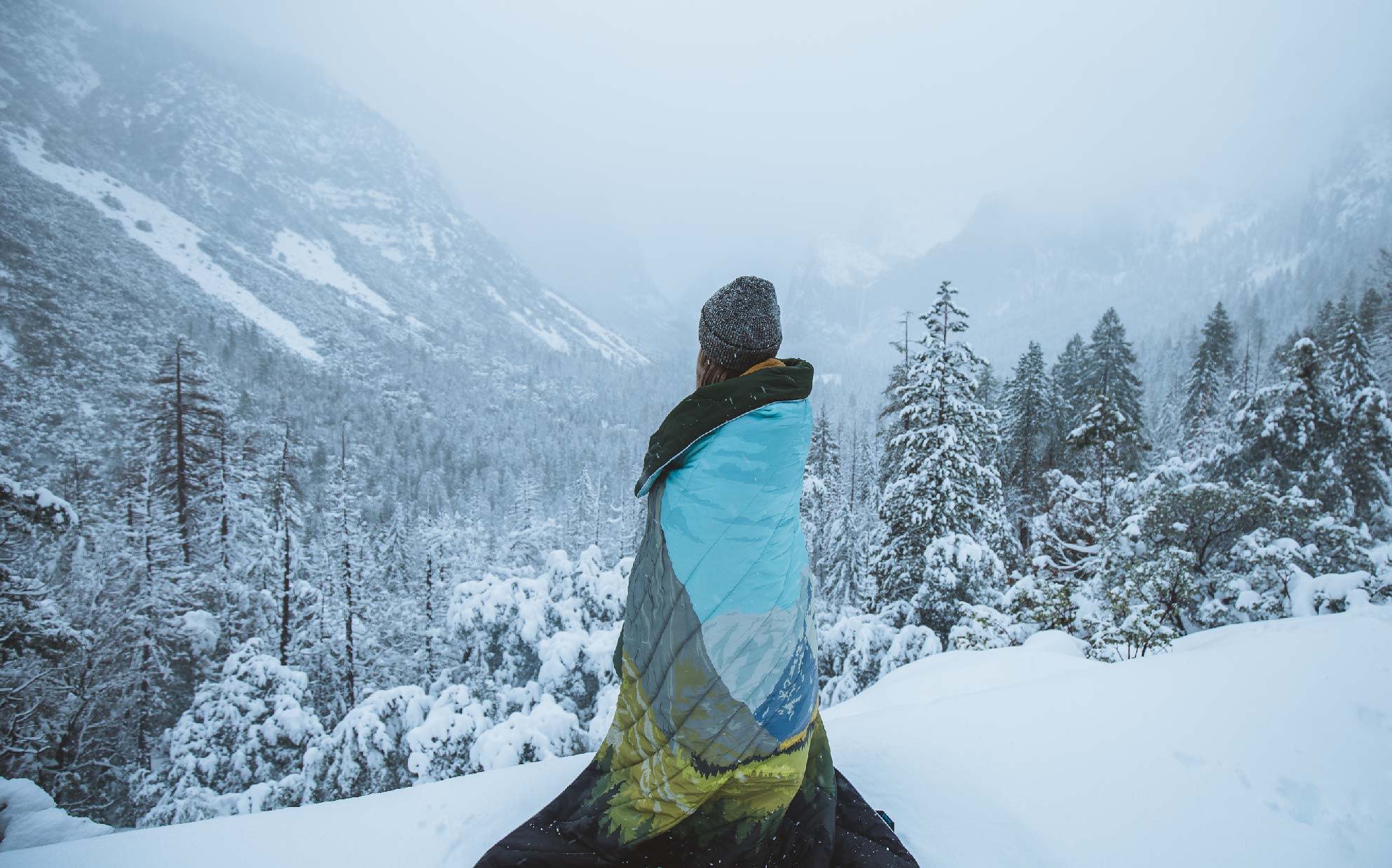 Even though Yosemite wasn't officially the first National Park (that honor goes to Yellowstone), it was the first park in the country to be placed under protection from development. In a sense, it's the OG of our public lands, and an easy choice for us to immortalize on our Original Puffy Blanket. It should be on your shortlist for your next National Park road trip.