Welcome to the fifth edition of INSIDE RUMPL where we give you a behind the scenes look at the problems we're facing, the solutions we're building, and the team that makes it all happen. For the latest installment, we're introducing you to Jeff Lancial, our Product Manager, who manages all things involving design, sourcing, sampling, and product development at Rumpl. Jeff joined the team in August 2019 and spent his first week at Rumpl visiting the factory and getting a crash course in manufacturing the best outdoor blankets. He's going to share how a Rumpl product goes from an idea to an everyday essential.
I have been around product design and production my whole life; it's in my blood. My dad owned a light fixture manufacturing factory and ran three different lighting brands out of the same building. At 17, I started in the warehouse and worked my way up to assembly tech, then quality control, and then got plucked by the product department. There I learned all of my practical design knowledge as an apprentice, Junior Designer, and Fixture Engineer.
After a few years, I decided to shift gears to something "way cooler" and got my bachelor's degree in graphic design. My senior year I was designing 3D packaging, trade show booths, and retail displays. I also studied environmental design. I spent the last ten years at Shwood Eyewear working in almost every role: production floor, product design, and line management.
Product Development Terms
Strike-off: A production quality, digitally printed sample of the outer shell fabric before assembly.
Sample: A 100% completed version with all trims and details of a product before it is approved for production.
Backbone PLM: A cloud-based product management software that databases all products and components as well as builds product tech packs for an overall more seamless development process.
Product CAD: A digital representation of the product before it is produced.
Tech pack: A detailed pack of information for each product that contains every feature, material, trim, and packaging spec.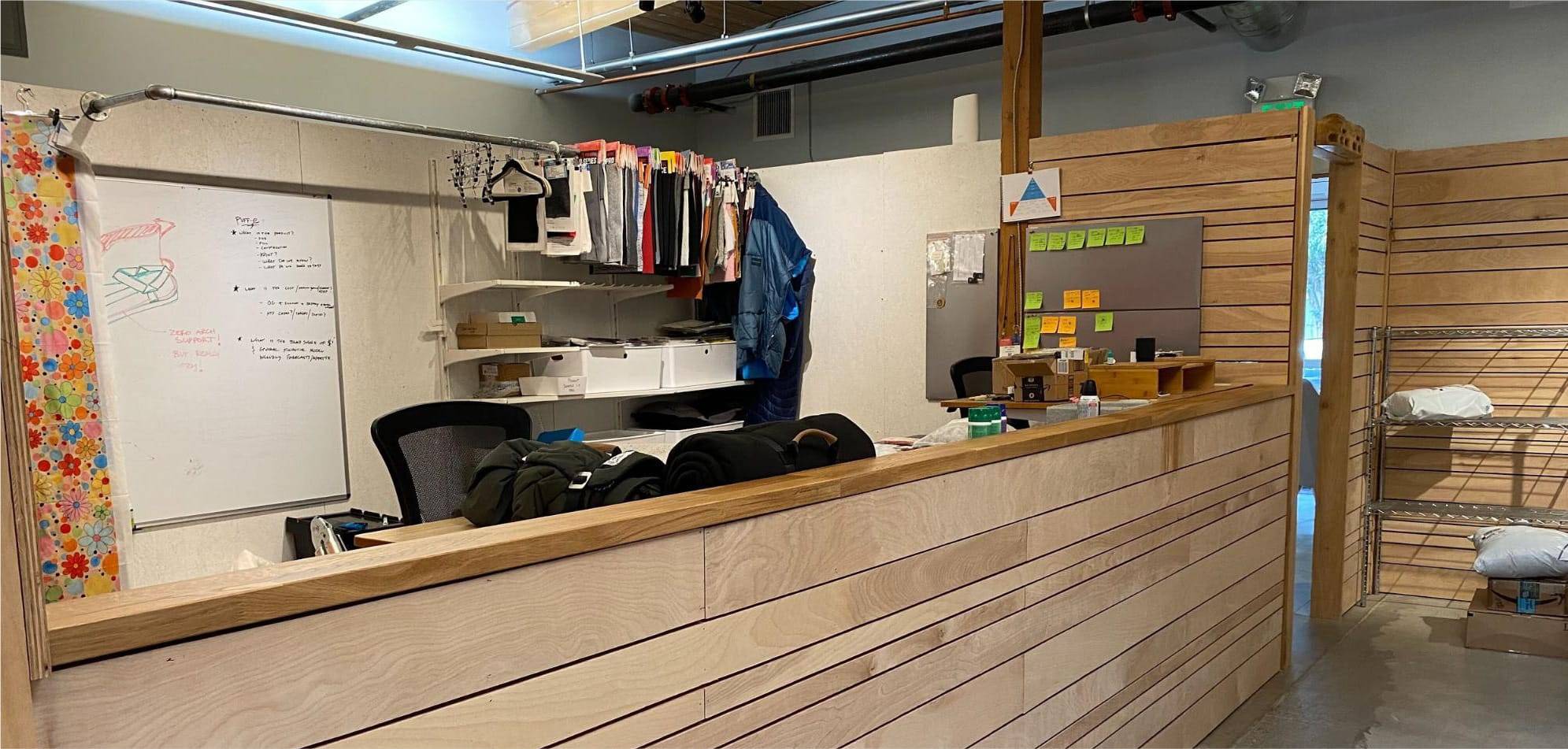 The Product area at Rumpl HQ.
From Concept to Reality
Product creation starts with concepting: collections, stories, materials, and emerging trends. We choose the best concepts for each season and then move to design. We design internally with contract designers and work with a few artists per season. These select artists make up our Rumpl Artist Division or RAD for short. It takes about four weeks from concept to finished artwork. The design is finished in Adobe CC. We use the newly created Adobe Illustrator mock-ups along with product CADs to build out the product specifications and tech packs. We host all of this information in Backbone PLM. Once reviewed and signed off internally, we send the tech pack to our factory partners and start the sampling process!
9 MONTHS FROM CONCEPT TO CUSTOMER

Product Updates
Because we are always improving and innovating to make our products the best they can be, most product changes go relatively unnoticed.
Product updates include:
Changing the fabric sheen to have a better hand feel and to enhance product photography in the wild.

Increasing the size of The Stash Mat's corner pockets to maximize their function. Increasing the amount of force we can put on our tags so people can yank the hell out of them.
Customers should have faith that the brands they support are always producing the best products possible while maintaining the customer's price expectations. At Rumpl, we're continually building and strengthening that trust.
---
The Rumpl production and design team mindset: 
"We make changes that no one ever knows about to continue to make the product better and better."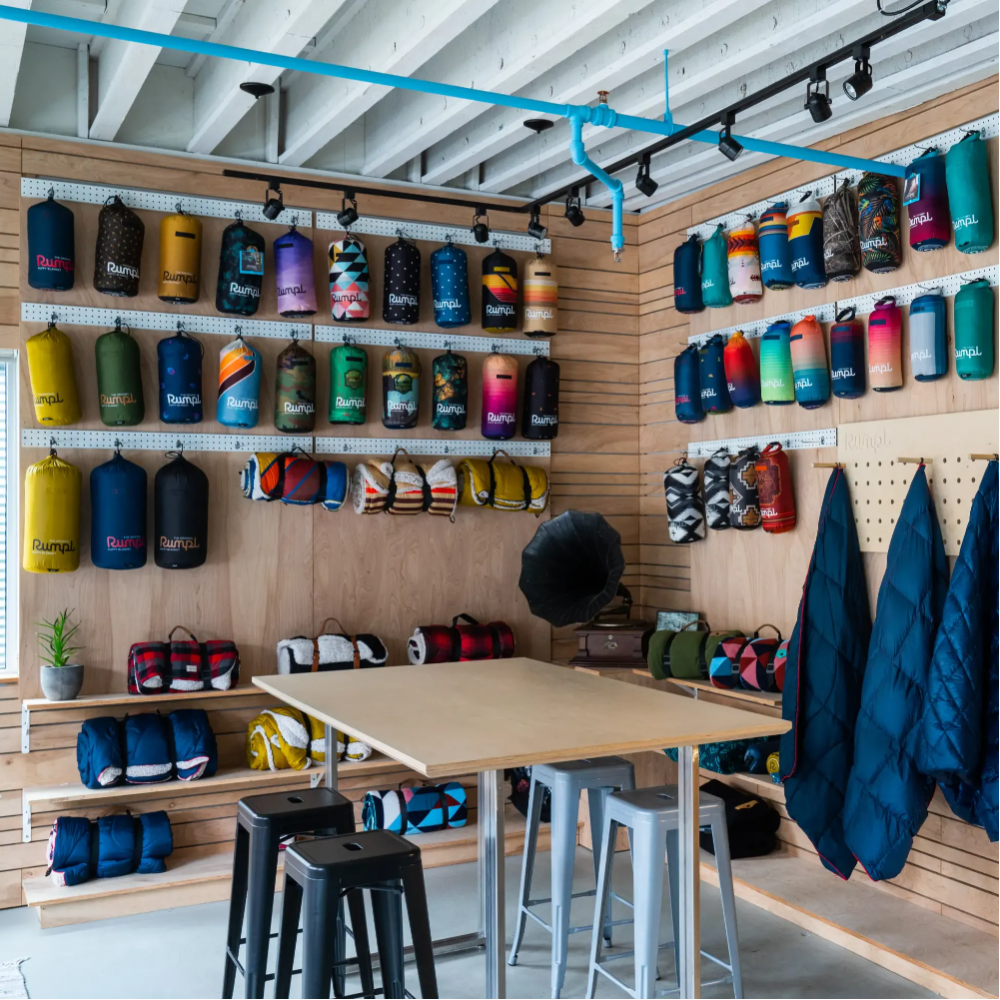 What are you most proud of in your time at Rumpl?

Just one thing? Man, I would say the fact that I get to work alongside the rest of this team. It is truly a pleasure and is pretty crazy the level of talent they bring to the table.
What product do you wish we made that we don't currently?

Printed Puffy Blankets in the 2-person size. We currently only make our 2 -person size in solid colors.
What advice would you give someone who wants to get into production and design?
You have to be willing to put yourself in so many people's shoes to truly understand what the product means to each of them; whether that's a sales rep, production worker, or the end consumer. Empathy is a great skill to practice within product design as it inherently touches more people before it launches than any other form of design.
What's your favorite Rumpl product?
Favorite: NanoLoft Puffy Blanket - NASA Collection (launching soon...shhh!)
Most Used: Stash Mat - Woodland Camo
What music are you listening to on Spotify right now?
Black Grapefruit, Essential 40's hits, and a bunch of surf punk.
What do you do when you're not working?
Outside is the goal. I snowboard in the winter when I am not watching my oldest play hockey. In the spring, lacrosse keeps my boys and I pretty busy. And then once sports wrap for the year, camping, boating, floating, wakeboarding, and dirt biking through fall.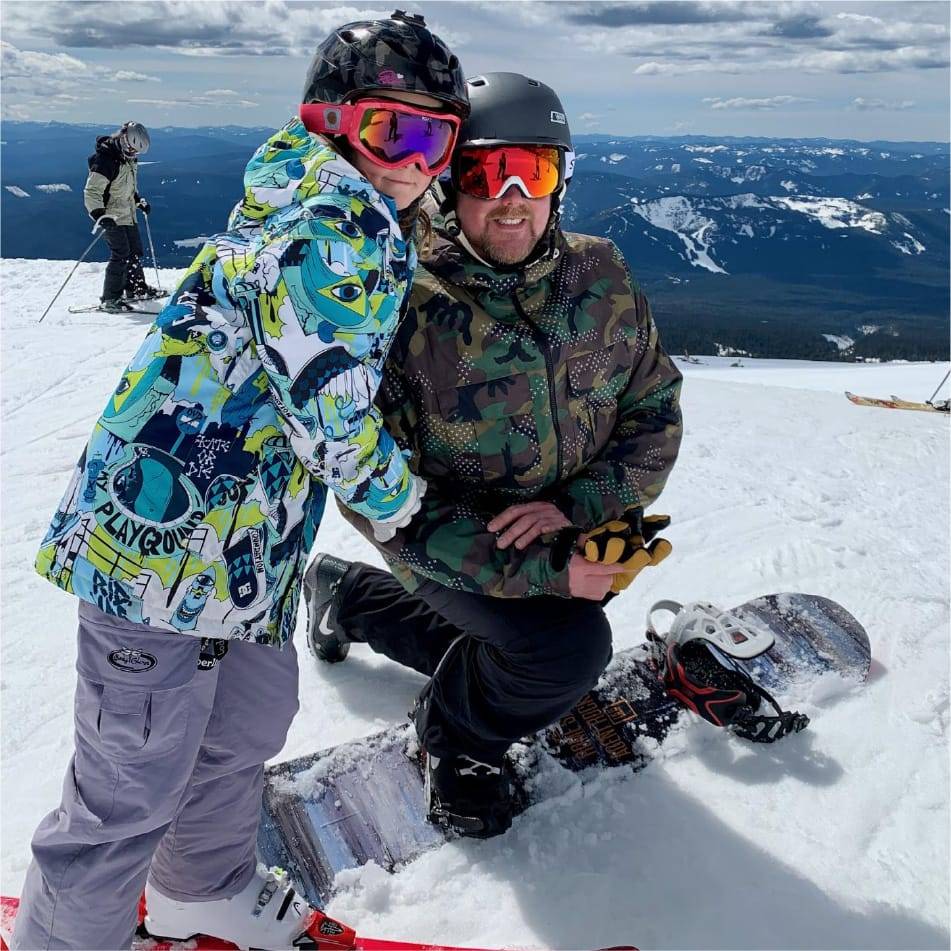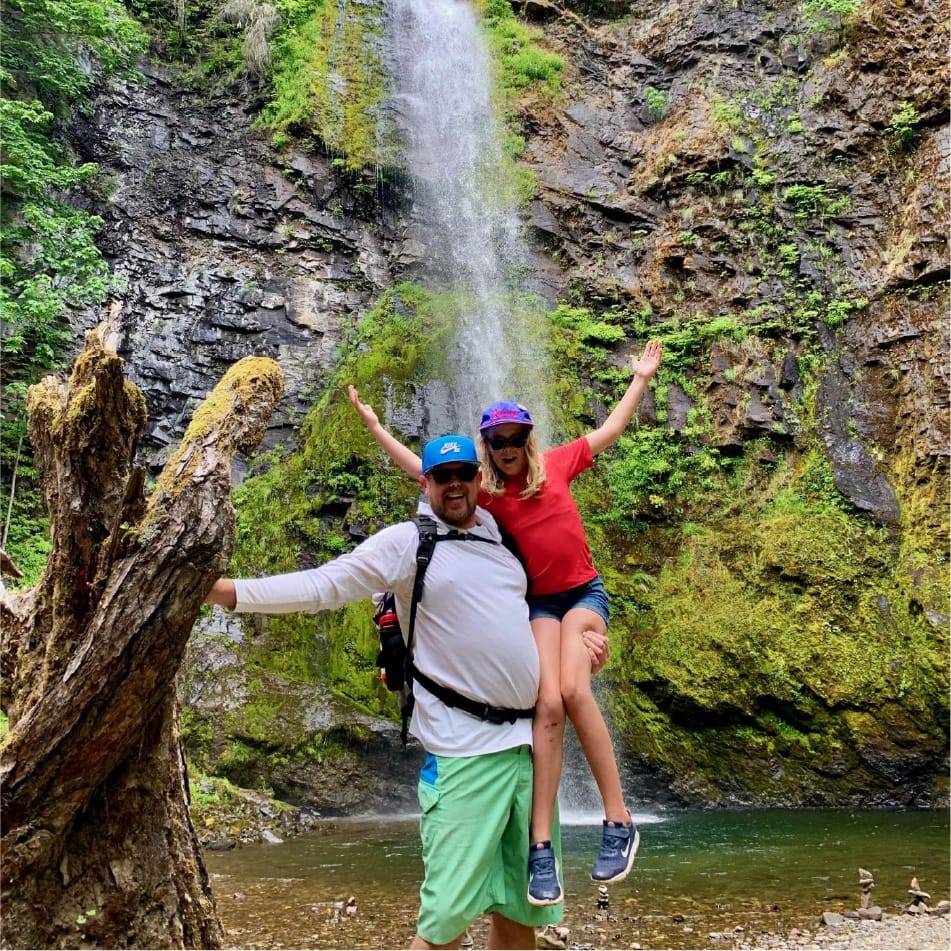 Hiking to the insane amount of waterfalls we have in the PNW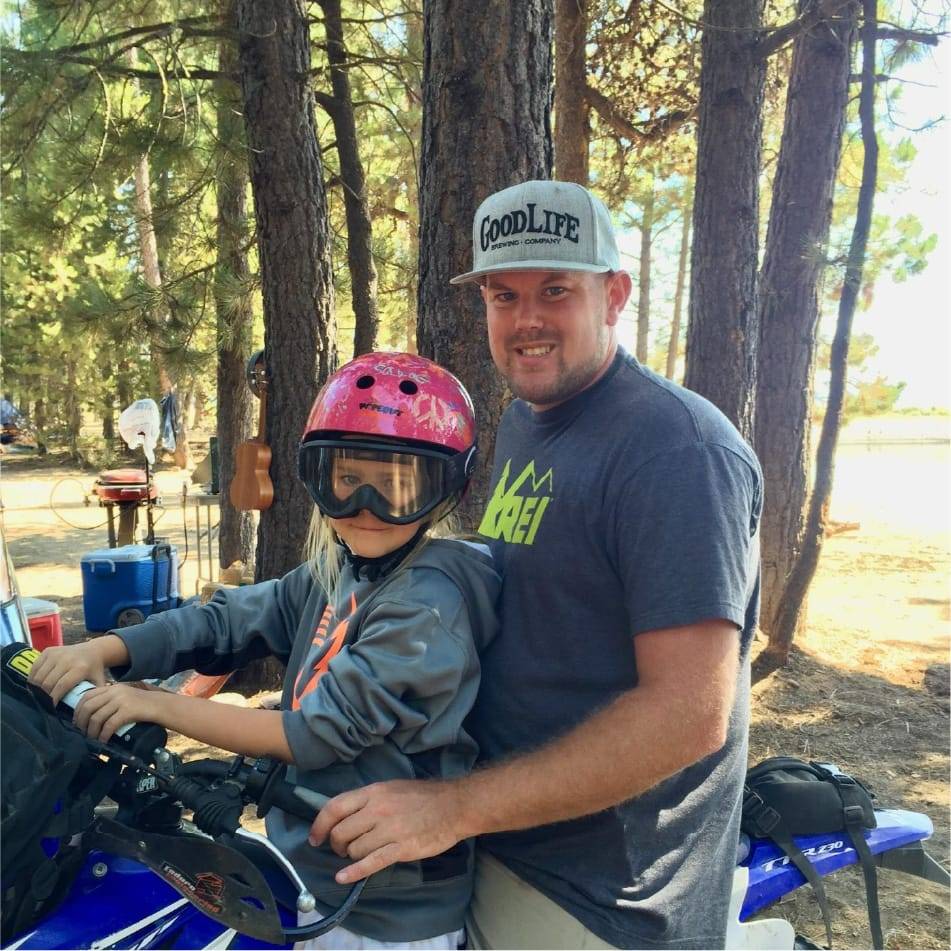 Riding dirt bikes in Central Oregon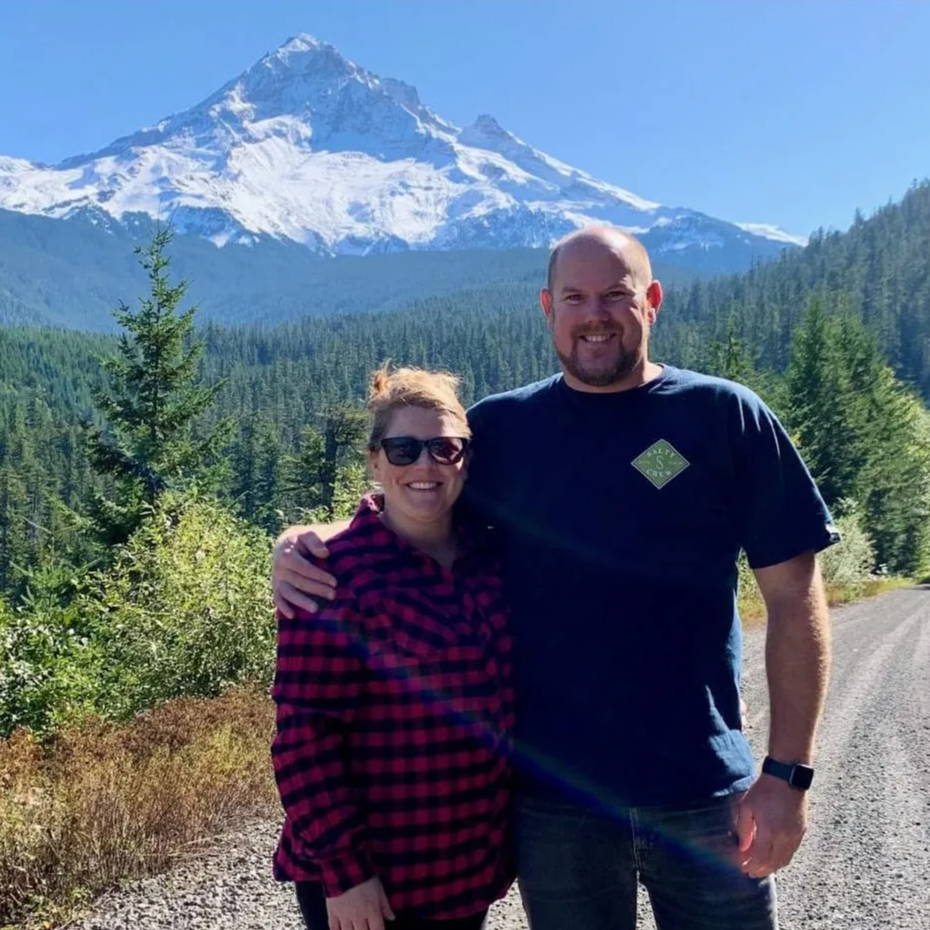 Post hike photo-op in Mt.Hood Nat'l Forest
---