ABOUT THE AUTHORS


Wylie Robinson is the founder and CEO of Rumpl and has two boys, Rylan (3) and Kaden (1), with his wife Krissi.


Shane Roach is the Director of Digital Revenue at Rumpl and has one daughter, Sophia (1), with his wife, Amanda.


Since becoming fathers, Wylie and Shane have read dozens and dozens of children's books and wanted to create a book that married fatherhood with their daily work. How do we get our kids to love the outdoors? Plus, who doesn't like cuddling up with a blanket reading a book? Enter My First Adventure Blanket book.
ABOUT THE ILLUSTRATOR


Sophie Benmouyal is an illustrator and graphic designer from Montreal, Canada, specializing in children's book illustration. She has two daughters, Chloé (9) and Zoé (7), and loves taking them on adventures, especially visiting parks and all of the beautiful nature around their hometown of Montreal. The outdoors and her daughters are her two main sources of inspiration.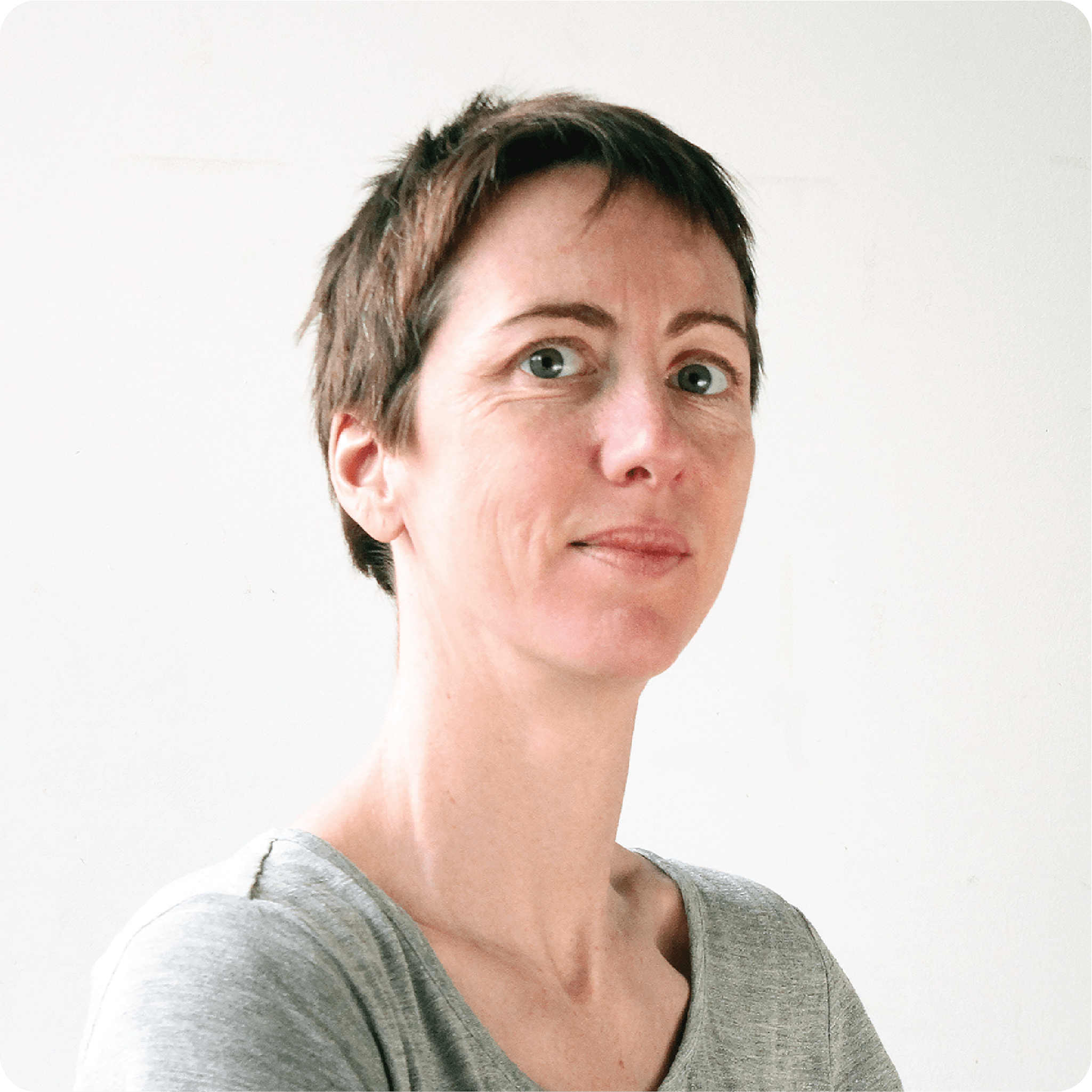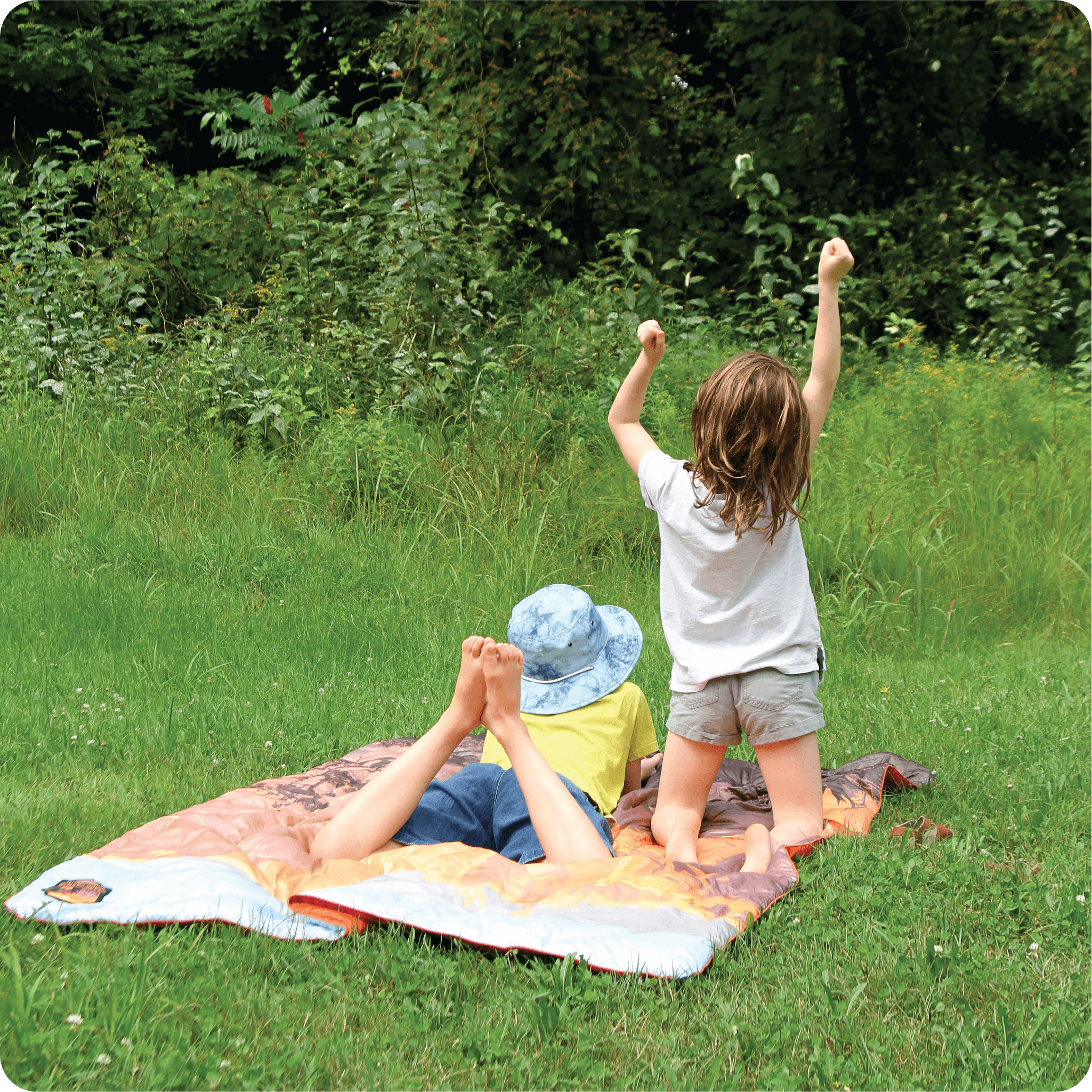 THE PROCESS


It all starts with the story. Wylie and Shane wrote the book in November 2021 and then needed to find the perfect illustrator to bring it to life. Shane found Sophie's portfolio through the Instagram account @illustratorsforhire and they all got to work.
After the story for My First Adventure Blanket was finalized, the next step was character development and rough sketches.
CHARACTER DEVELOPMENT


The main character was inspired by Wylie's three year old son, Rylan.
STORY SPREADS
The next step was building the layout for the book and creating black and white sketches for each spread. Throughout this process, Wylie, Shane, and Sophie went back and forth through multiple revisions to reach the final artwork.
THE FINAL COVER
The last step before printing the book –– design the final cover for My First Adventure Blanket. Sophie created four variations and we landed on the final cover below.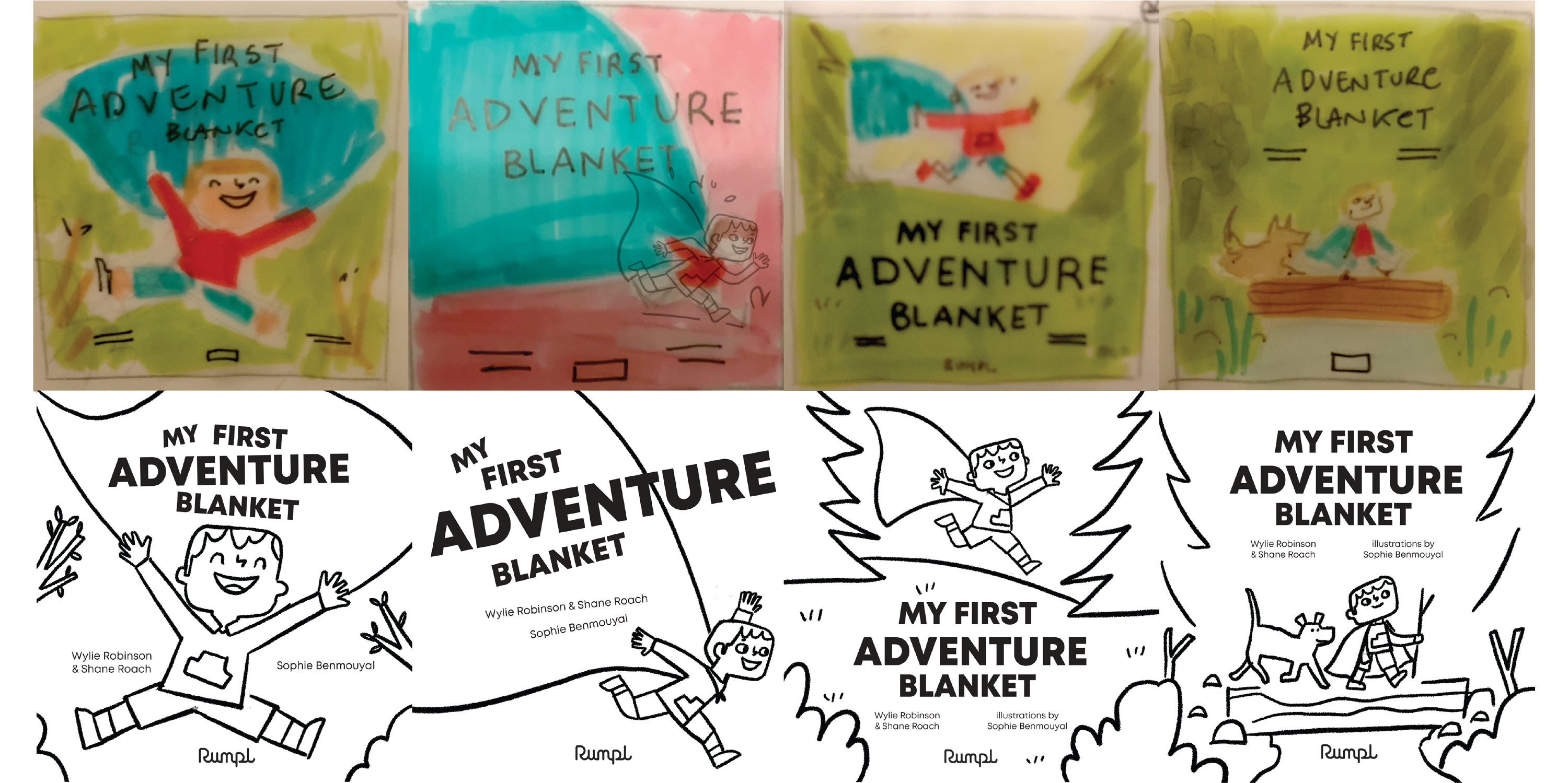 My First Adventure Blanket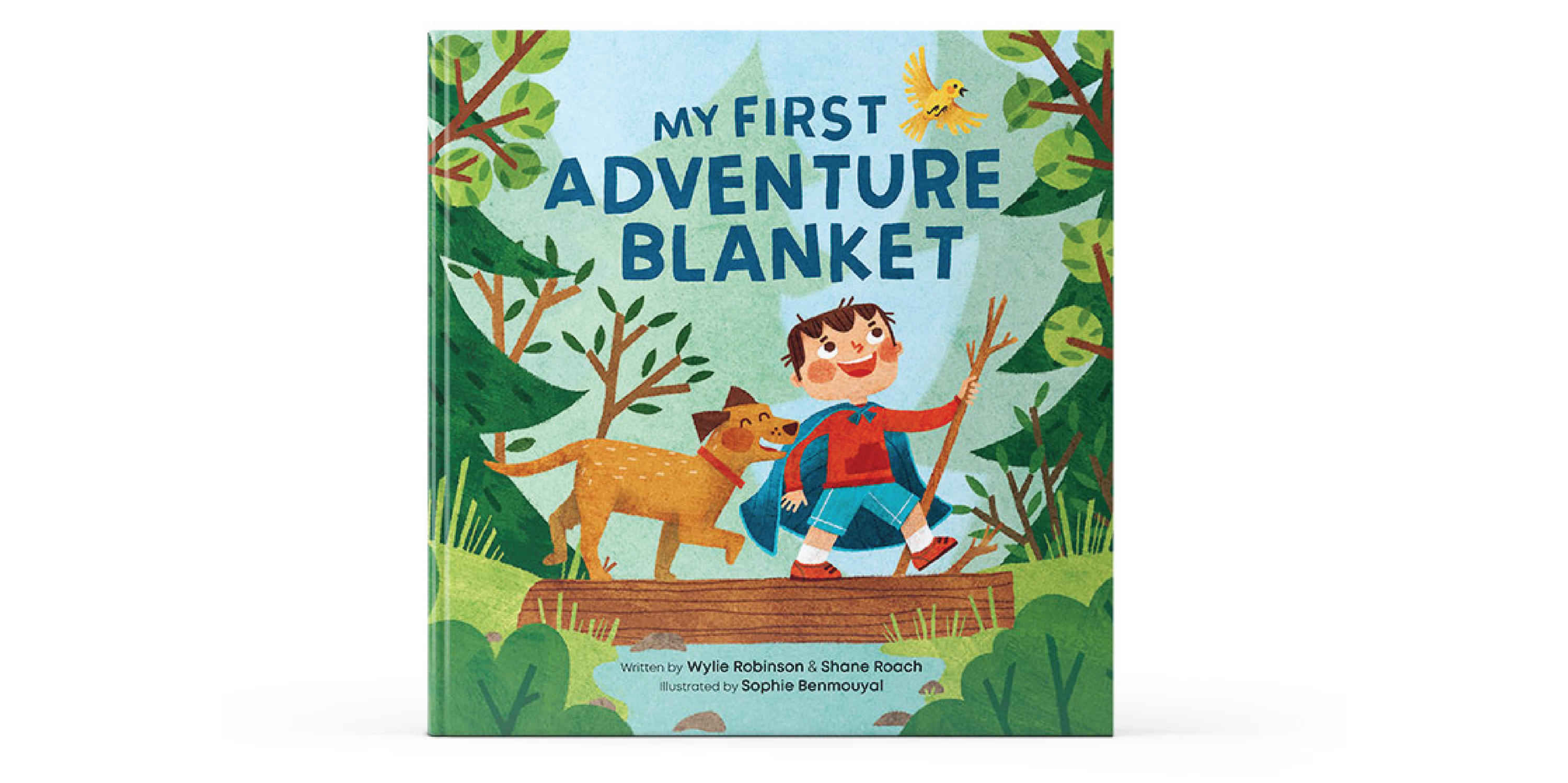 Q&A WITH SOPHIE BENMOUYAL
1. Your background is in Graphic Design. How long have you been a graphic designer?


I have been working as a freelance graphic designer for over 15 years. Although I started studying graphic design for the illustration classes, I also enjoyed learning more about every aspect of design. Since I wasn't sure what I wanted to do after graduating, I guess I chose to work as a graphic designer because the path looked easier at that time. I honestly don't regret it. I still love working on layouts!
2. When did you make the transition to focus on children's illustration books?


I made the transition to illustrating children's books in 2019. At that time, I was only working part-time as a freelance graphic designer: my husband and I chose not to put our kids into daycare. My kids were always asking me to draw them things they like, and I was surrounded by children's books all day long. I even began to write and illustrate short stories for them. The more I drew and read, the more it became obvious that my next goal would be to become a children's book illustrator.
3. What's the hardest part about designing a children's book?


There's no part I find "hard". Working on a children's book IS a lot of work. In my opinion, the most important thing is to have the right attitude and an easy-to-follow to-do list. Each step needs time and thinking. If you skip a step, you will encounter many difficulties later. The way I like to see it: Do LOTS of research, make LOTS of sketches, make LOTS of tests, and regularly take some time off so you can get a new perspective on what you are working on.
4. How do you start a project?


I always start a project by doodling ideas on paper. Those scribbles are almost impossible to understand for anyone but me. I let my brain sort out what I need to understand. I also read the text several times. I take notes, and sketch in the margins. I love visiting my favorite bookstore at the beginning of a project to look for inspiration. I always prefer to look at physical books. It offers a different state of mind than scrolling on the internet.
5. What is your favorite part of the process?


There is no such thing as my favorite part. Each part brings its enjoyment and its challenges. The first parts –– character development, sketches, first layouts –– are all about discovery. Starting to work on a new book can be stressful at first. It may feel like you must create an entirely new world. If you have properly done your homework, everything comes together quickly and the book and its characters guide you along the way. The last part is mainly about sticking to your to-do list and sitting at your drawing table every day. No shortcuts to the process.
6. What was your favorite part of creating My First Adventure Blanket?


The first time I read the manuscript, I visualized entire spreads. That's always a good sign that I will enjoy illustrating a book! The part I enjoyed the most was meeting with the main character. I pictured this lively little boy full of imagination, loving sports and being outdoors, always ready for adventure. Developing the spreads was also a fun part. Since there wasn't a clear plot from the original manuscript, I focused on creating a pace appealing to young readers. I wanted them to feel an evolution in the main character, as he brings his blanket everywhere on adventures.
7. How has nature and the outdoors influenced your work?


I have always been drawn to colors and textures. As a graphic designer, I learned to like bold shapes and bright colors. But, my first love has always been with patterns we find in nature. Going for a walk in a forest and wandering around has always been my way to sort my ideas and clear my mind. That's where I feel everything falls into place. When I need a break, I also enjoy going to nature and drawing what I see. When walking in nature, I can stop every minute to look at an interesting color scheme or a particular shape I see.
8. What are some of your favorite places to take your daughters, Chloé and Zoé?


My daughters are particularly fun to be with and I hope this will never change! We enjoy visiting Quebec National Parks together. We have our favorites where we like to go for a long walk or a bike ride. We visit those parks almost every week. My kids bring their art supplies, and their outdoor explorer kits, and we stay there for hours (Of course, I always bring my art supplies and Rumpl blankets too!).
What are you working on next?


I'm at the end of negotiating some new book deals. I can't say much about those for now, you will just have to wait and see.