---
Ski season is in full swing; the powder is fresh and the aprés are flowing. Whether you're heading up to your local hill, or packing for a weekend of storm chasing, we've got a little inspiration and advice to get after it from one of the best skiers we know. Amie Engerbretson is a professional skier and adventure seeker. See what she has to say about packing and prepping for a last-minute Patagonia expedition.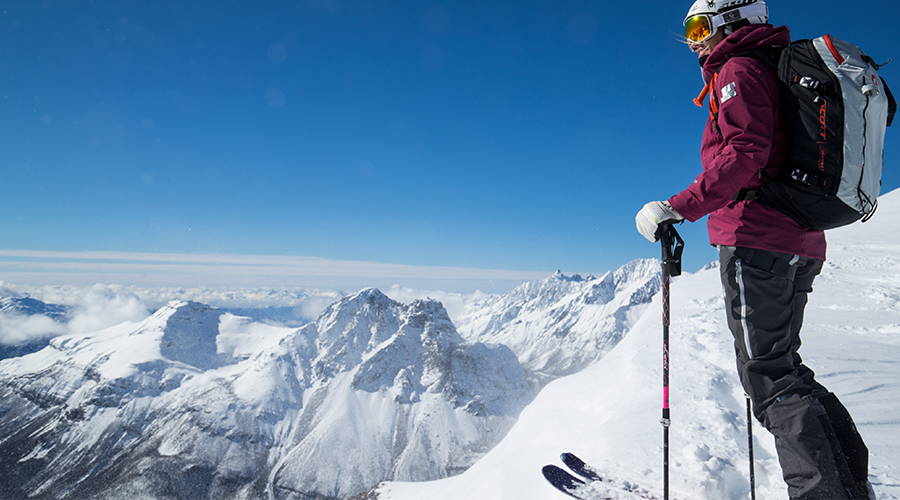 Amie Engerbretson here! I am coming to you with a tale of my adventure to the beautiful Andes Mountains of the Patagonia Region in Argentina this past August. It is typical, for someone like me who is addicted to snowy mountains, to begin to feel a certain pull on my heart towards the end of summer. I have soaked up rays, indulged in dirt activities, but my true love, snow, has been absent for quite some time, and I miss it. Luckily for people like myself, winter exists almost all year round if you are willing to look for it. In August, while the heat blazes in the Northern Hemisphere, winter is alive if you head South.

I have never been to Argentina before and stories of the Patagonia region danced in my dreams. It was the opportunity I had waited for when my friend, photographer Adam Clark, gave me the tip that a brand new heli operation was starting up this year and they had some space. We enrolled my outwear partner, Spyder and called up our buddy Connery Lundin and away we went. For me as a professional skier, one of my main goals is to ski new places as much as possible. Patagonia was high on my list and I was psyched (literally) to be heading down there.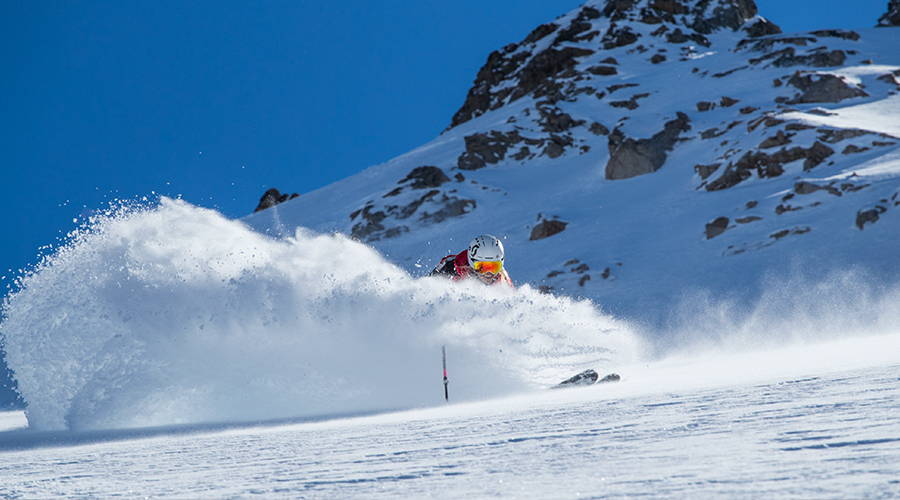 We arrived in what our lead guide called "once in a lifetime conditions!" We had fresh snow, blue skies and calm winds. That meant we slayed. We skied run after run of velvety smooth snow under the distinctly Patagonian pinnacle mountains, some of the most uniquely beautiful mountains I have ever seen. Most of the runs we skied were first descents, places no one had ever been on skies before. We jokingly named the runs at the bottom but we were too elated to do silly things like write them down or even remember them.
After countless smile-filled turns, we would end up back on the cozy lodge on the banks of the Carrileufu River. Over the open fire asado we would share laughs and broken Spanish jokes with the insanely nice locals. We feasted on the most incredible meat I have ever had, washed down with delicious Malbec vino. The entire trip has a hazy glow around it, like those cheesy glamour shots. But that is what happens for me on those rare and cherished true dream trips. Dreams come true, and I spend the whole time with my eyes as open as possible, absorbing every minute!
PACKING TIPS
For me, packing is a huge challenge. I want to be light and swift but I want to be prepared for anything! A couple things that really help me are:
Lay everything out in advance and make a plan. Pack everything in the same color pattern (if you care about matching and such that is).

Fold precisely and stack vertically in your suitcase so you can see what you have without taking it all out. I learned this from @mariekondo… genius!

Bring at least one cozy thing from home. Being on the road is an exciting adventure but it is always nice to have something that makes you comfy… This is exactly where my Rumpl puffy comes in! Practical for many reasons including extra warmth, impromptu picnic, lack of a yoga matt and of course for coziness!

Get a suitcase scale!
TRAVEL TIPS
Do what you gotta do to sleep! The stuffable fleece pillowcase is perfect for the plane, you can throw you extra layer inside and have a little extra comfort on the plane

Drink tons of water

Stretch when you can, even if you look like a weirdo

Wear compression socks, especially when you are cramming your summer feet into ski boots the day after your flight!
PREPARATION
Maintaining a sense of routine in the morning is important for me no matter where I am. I love coffee and giving myself a little time to greet the day. Find whatever works for you to start your day off right. Waking up on the wrong side of the bed is not an option when you are on a dream trip.
SKIING
The skiing in Patagonia was incredible. I have been lucky enough to ski all around the world and see many of the world's most famous mountain ranges. I have to say that the Southern Andes in the Patagonia Region were some of the most unique mountains I have ever seen. Characterized by jagged pinnacles and spires, the mountain skyline was enchanting and will be burned into my mind forever. The night we showed up it was pouring rain, which was good for us because by the time the skies cleared it had dumped nearly a meter of snow is spots up in the mountains and winds left it untouched and fluffy! Skiing in South America is fun, no matter the conditions, mostly for the novelty of it and the ability to get a quick winter fix in the middle of summer. This trip was far and away the best snow I have ever skied in the Southern Hemisphere and far surpassed my expectation for the trip. We were in powdery heaven and it was awesome!
APRES SKI
Heli-skiing is rad and wonderful but there is great satisfaction when you get back to home base safe, in on piece and happy. While I love a great beer or shot of Fernet with friends post-ski, I also like to take some time to chill out, reset, reminisce on the day and let my adrenaline levels even out a bit. Just a cozy 30 minutes with a great view, a good book or both if I am lucky, coupled with a bunch of water, and I am ready for whatever is next.