We partnered with Hygge & West, the wallpaper and home decor powerhouse, on two limited edition prints inspired by their iconic Daydream pattern. We caught up with the brand's cofounders Christiana Coop and Aimee Lagos to learn more about the brand, how they find inspiration and embrace hygge.
Can you tell us a bit about Hygge & West, and how your brand came to be?
Both: We actually started out as a distributor for the Danish brand Ferm Living but ended up wanting to do something more creative (that also didn't involve endless customs clearance issues). By that point, we made good connections in the design industry and had fallen in love with wallpaper, but we noticed there was a lack of well designed, direct-to-consumer options. We decided to launch our own brand to address that gap.
What was your design process for these two Daydream patterns? Can you take us from ideation through execution?
Both: It all began with a bird and cloud pattern designed by Julia Rothman that we had printed as a custom mural and installed in Christiana's kitchen. We both loved it so much and thought it should be available in a more accessible way than just the expensive custom option. We eventually met with Julia in New York and collaborated with her on a collection of five patterns—including the original bird and cloud pattern, which we named Daydream—for our Hygge & West debut in 2008. Julia had initially designed the pattern to be a coat lining, so we worked with her to adjust the scale to work on a wall and develop a palette of colorways that was appropriate for interiors. We've since created many different Daydream colorways that work well for both adults and children, and have used this now classic pattern on bedding, shower curtains, and now Rumpls!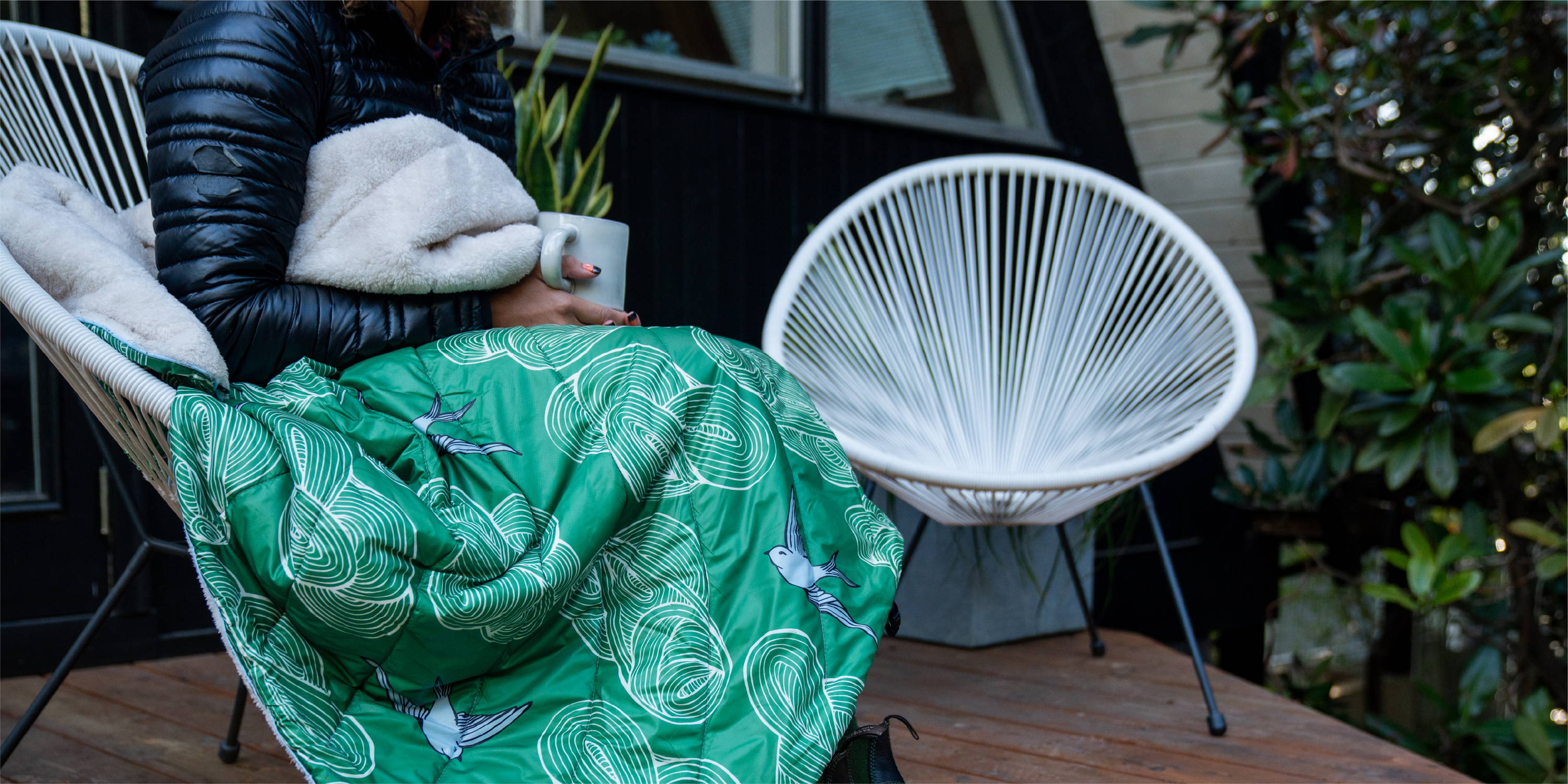 What have been some of your favorite projects in the past?
Christiana: We recently launched a collection with Universal that translated three classic movies—Back to the Future, E.T the Extra-Terrestrial, and Jaws—into wallpaper patterns. The process from start to finish was quite challenging, but so much fun. It presented our team with many new avenues for creativity and was a personal opportunity to revisit happy, carefree memories from my childhood. I also really enjoyed the process of creating our book, Hygge & West Home: Design for a Cozy Life. We were able to travel to wonderful places and meet, interview, and spend time with very inspiring and talented homeowners. It was much more work than we anticipated, but such a joy to hold once it was finally printed!
Aimee: Our latest collection with Schoolhouse was a project that I particularly enjoyed. We've long admired Schoolhouse for their aesthetic and commitment to quality, and it was a dream come true to work with them on a wallpaper collection. As a small company, it's invaluable to witness other companies' processes and approach to design—we always learn things that we then incorporate into how we work. The collection turned out beautifully and we couldn't be prouder of what we created together.
Your brand is named after the Danish term that conveys coziness and contentment—how do you embrace "hygge"?  
Christiana: Ever since I learned about the concept of hygge, I've really made a more conscious effort to appreciate the small, simple things in life. I moved to a farm property in Sonoma County, California, a few years ago, and it's quite easy to do that here. I never take for granted watching the chickens enjoy their watermelon rinds, the birds play in their bath, and the sun set over the goat house with a glass of wine. Picking fresh herbs from my tiny garden, playing and snuggling (lately, in my new cozy Rumpl!) with my pup, sitting in my backyard with a magazine—all of these little moments make me feel so grateful and content.
Aimee: Living in Minnesota, which is quite Scandinavian in both weather and temperament, definitely encourages a sense of hygge. I'm always busy either with work, family, or our three dogs and one cat, so I've built small moments of contentment into my daily grind. This can be as simple as having a special coffee mug that's a pleasure to drink from, lighting a beautifully scented candle at my desk while I work, or carving out an hour a day to curl up on the sofa and read, one of my favorite pastimes made infinitely better by our lovely Rumpls. I'm an avid home cook, so on the weekends there is nothing more hygge than spending the day cooking and then having a bunch of friends over for a long, leisurely dinner.
SHOP THE HYGGE & WEST COLLAB