You're never going to get on first chair.
 
Someone will always beat you to the lift line. You can get up early, pack the car the night before, even sleep in your Ninja Suit. Someone will always be on their way up to that sweet, pillowy pow before you can even get your boots on. That is, unless you're willing to spend the night in the parking lot.
You don't need to have a tricked-out Sprinter van or a two-bedroom-sized RV to make the most of an overnight stay (but if you do have one of those, can we hitch a ride?). We're big fans of turning a few runs into a multi-day affair, and we picked up some rules to live by along the way.
We're big fans of turning a few runs into a multi-day affair, and we picked up some rules to live by along the way. And when you're outfitted with our latest Rumpl x Airblaster Collab, sleeping at the mountain in an outdoor blanket might turn into your weekend routine.
HERE ARE 4 WAYS THAT MIGHT EARN YOU FIRST TRACKS

Night Ski When You Can
Generally speaking, we all suck at delayed gratification. Free 2-day shipping? But I want it now! The same holds true for driving an hour or more to a ski resort and then not being able to immediately step into your bindings and carve up the trails. Here in Portland, we're lucky to have three resorts that offer night riding; Ski Bowl specifically has the most illuminated acres of night skiing in the country.
Going for a double-header isn't just fun, it gives you a chance to dial in your ride. Boots feel good? Is your board waxed? Don't get caught out on a pristine run first thing in the morning with a loose binding or shredded laces. Get your gear sorted at the mountain shop before closing time so you can carve those black diamonds in the morning with confidence.

Hot Dinner. Cold Breakfast
Anyone who has been camping knows how a hot meal in your belly can help you sleep soundly, even in cramped, cold conditions. Yes, we know the lodge dining options are mostly dressed-up cafeteria food with goofy names i.e."Green Circle Kale Salad W/ Alpine Apricots," But a hot chicken finger beats a cold cut every time.
On the flipside, the last thing you want to do when you're getting ready to shred in the morning is unfold a camping stove or run around the parking lot begging for a spare bottle of butane. Pack some energy bars, bagels or whatever will get you through an hour or two of adventure. You can grab a hot breakfast once the weekend warriors start clogging up the hill around 10:00.

Pick Your Accommodations Wisely
That 1993 Toyota Camry has an engine that won't quit, but it's not the most comfortable car to spend a night in (yes, we know from experience). There's really only one question you need to answer. Can you lay down flat? Yes? Then you're good to go. Does it fit an air mattress? Even better. Bring blankets to keep warm (duh) and a headlamp so you can find stuff without draining your car's battery.

No matter where you're going to catch some Z's, take advantage of the lodge for as long as its open. Get your tickets for the morning, have an aprés ski or three, use the bathrooms and generally loiter around until they kick you out.

Make Friends
Chances are you won't be the only one with this brilliant idea. Most parking lots are littered with camper vans and crossovers before the lifts close for the night. Make the rounds and get to know your fellow powder hounds. Share some drinks and some snacks. Most importantly, figure out what part of the mountain everyone is planning on hitting up first. That way you can figure out where the least amount of people will be and get a run all to yourself.
What mountains are you planning on hitting up first this season? Do you have a sweet ride to camp out in? Show it off on Instagram and tag @gorumpl and @airblaster.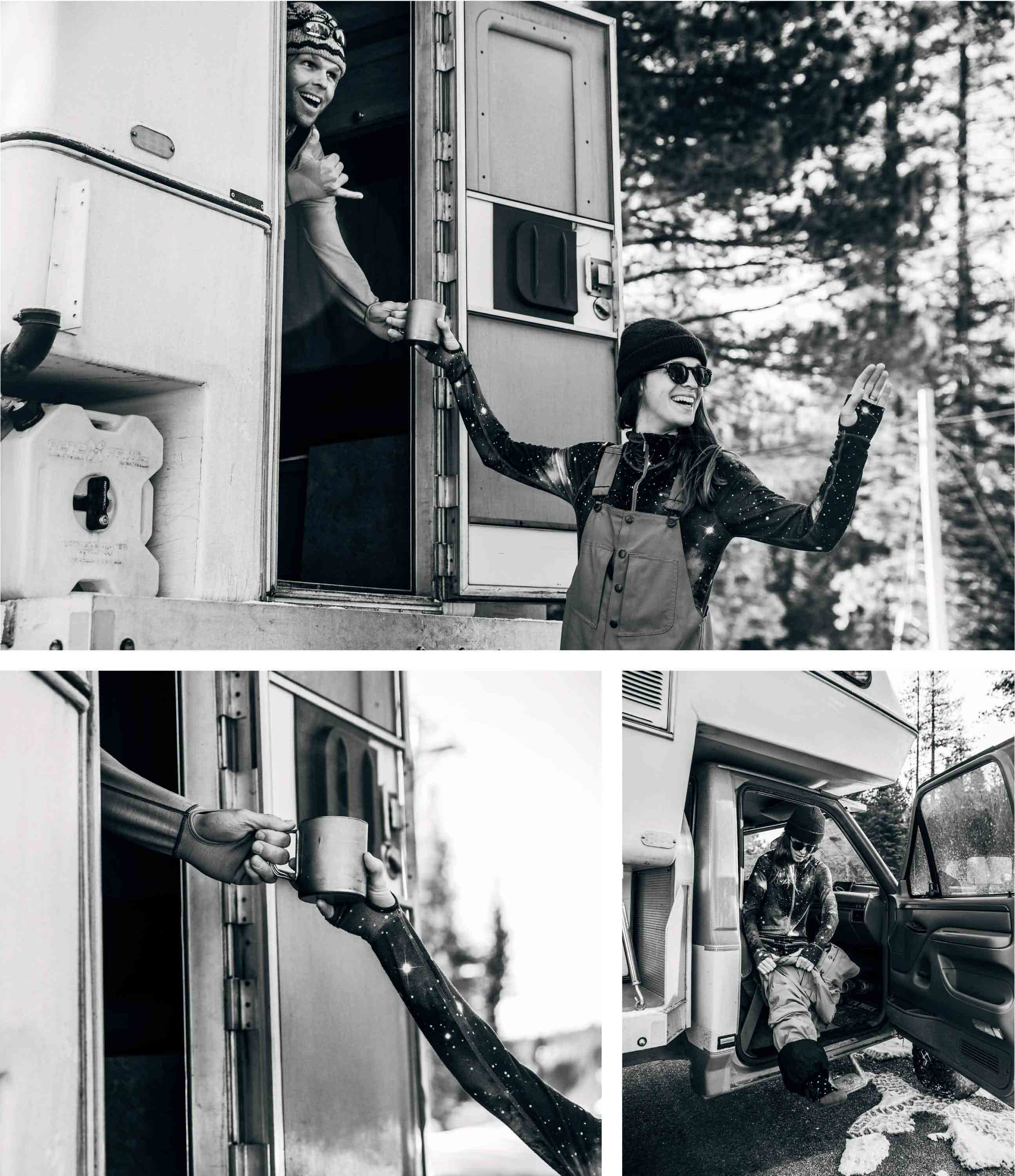 ---