Collaborations are one of the most fun things we get to do at Rumpl. They give us an opportunity to work with talented people from other brands both inside and outside of our industry. It is exciting to collaborate with people who have different experiences and perspectives, but it also allows us to try new things with our product. We get to experiment with different materials or design aesthetics or just adding a little something extra, like a sticker, to the packaging.
We wanted to give you a behind the scenes into how this Chaco partnership came to life –– it's been over a year in the making.

The lead times for collaborations can be longer than normal products because you are juggling production timelines from two different brands. The amount of time it takes to develop and sample a shoe, for example, is quite a bit longer than a blanket. Both brands need to align on launch timing, marketing story, content creation, design, packaging and a whole host of other details to make sure the launch is as coordinated as possible.
Our teams met at the Summer Outdoor Retailer show in June 2019 and kicked off the design process. With Chaco based in Michigan and Rumpl based in Portland, this was the only time we worked together in person. We aligned on which products each brand would include in the collection: the Original Puffy Blanket for Rumpl and the Borealis Quilt Boot for Chaco.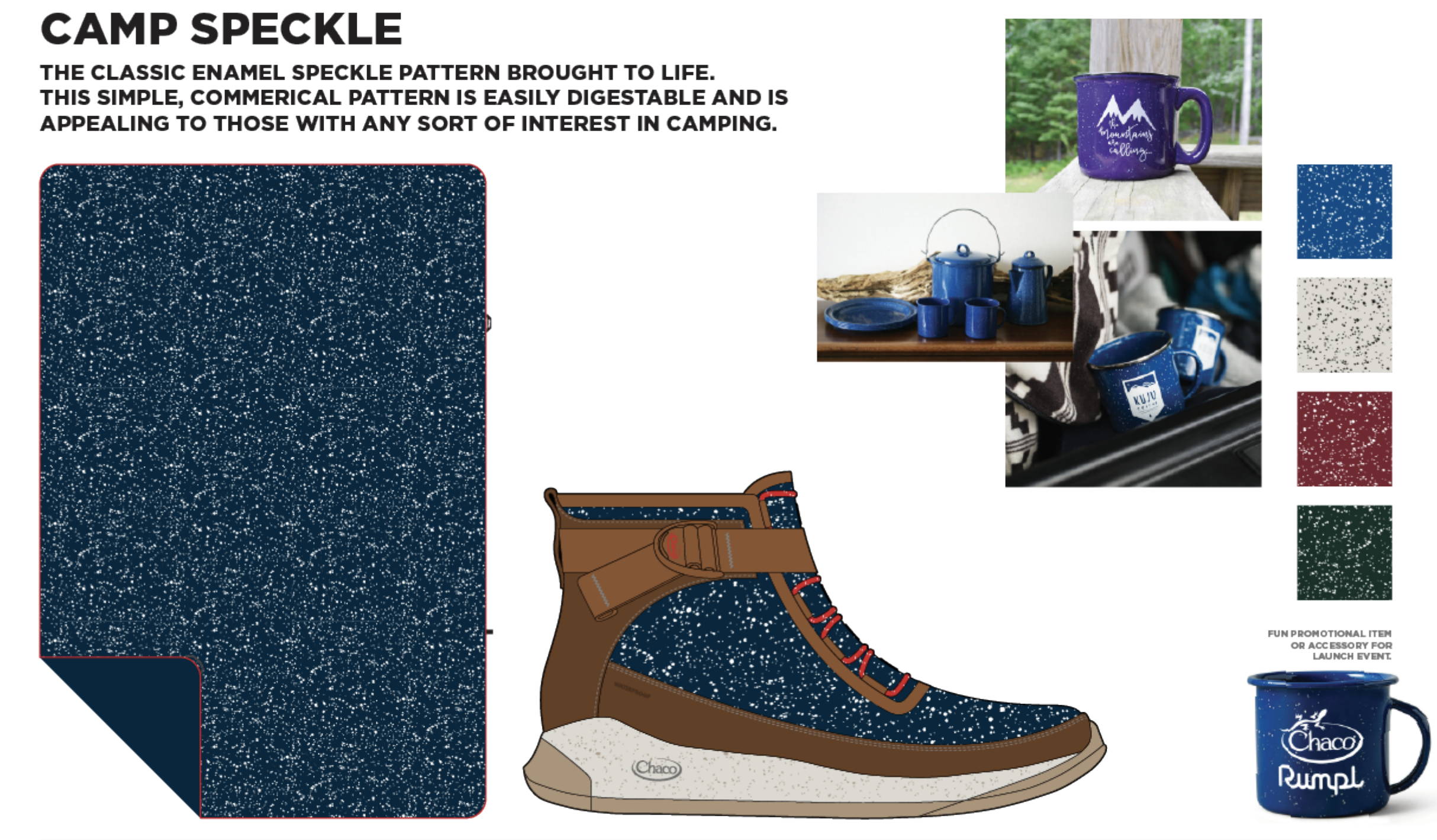 The challenge: identifying a design that worked equally well on the boot and the blanket.
A month later, we shared a handful of concepts with the Chaco. The winner: Camp Speckle! It was perfect for camp-inspired storytelling.
When building a partnership, we look for opportunities to inject each other's brand's DNA into every product.
Once design finishes, both companies enter the sampling phase. Since we have different production partners and work with different materials, it took several rounds of sampling to make sure the colors were consistent across both products. Once the products get two thumbs up, we enter the production phase. This is the longest part of the process, waiting for the boots and blankets to get made.
During the production phase, the marketing teams solidify their launch and communication plans. This year was obviously somewhat complicated by COVID, but thankfully a lot of the content was captured before lockdowns and travel restrictions took place.

And just like that, 14 months later we're at product launch day! We hope you enjoyed this. What else do you want to learn?