---
Long before the gold rush, the tech boom and the suburban sprawl of so-cal, California was wild and rugged. But what has always made California stand out are the seemingly infinite amount of scenic byways and the people that have made it their home for generations. Inspired by elements of traditional weaving patterns and techniques common to the native Chumash, Pomo and Miwok tribes, the Rumpl x Iron & Resin collaboration distills the golden California sunsets—from chilly evenings on Mt. Shasta to the never-ending twilight that casts long shadows along the Ventura pier down the road from Iron & Resin's HQ.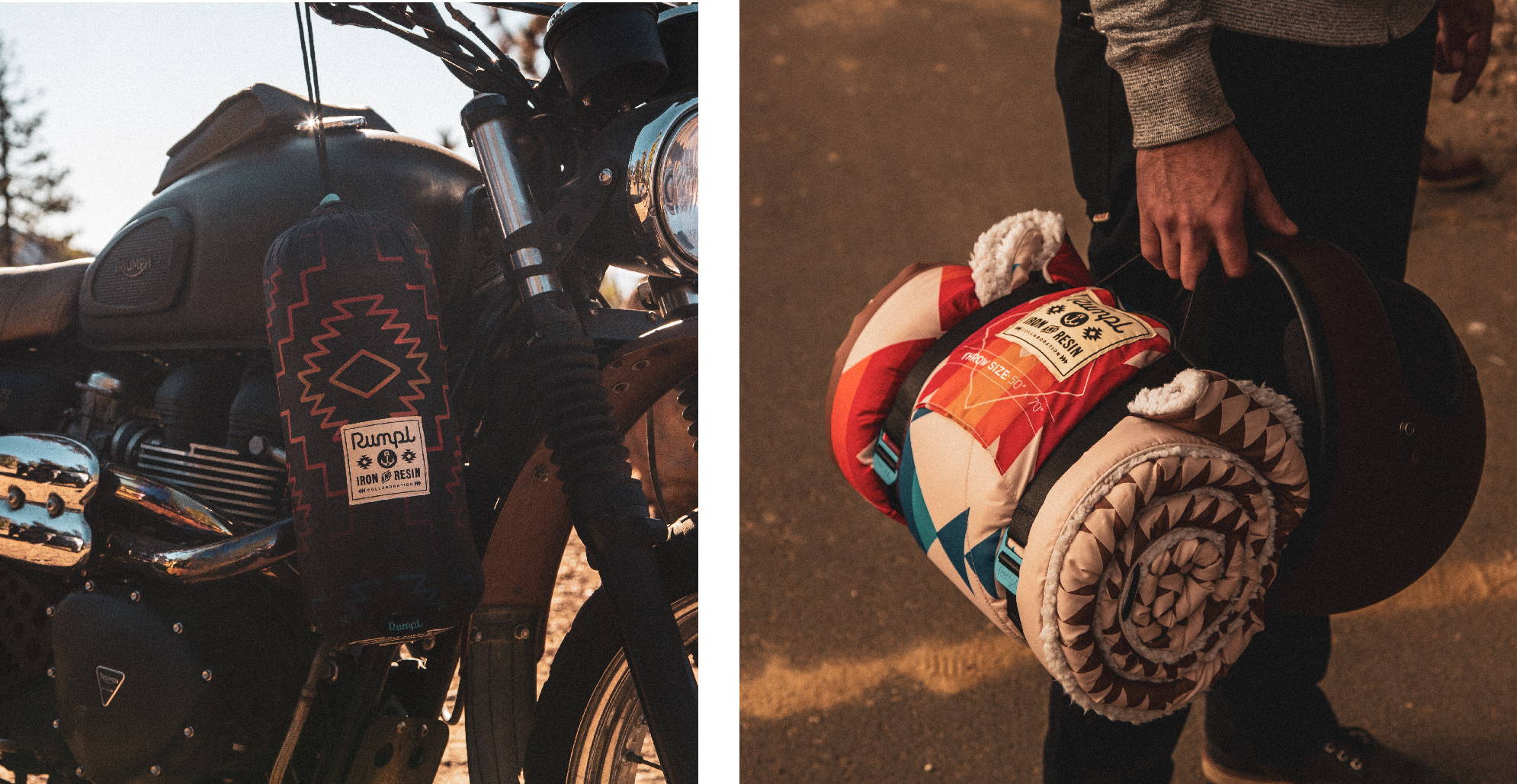 CHASING THE SUN
Heading west into California, you rip through hot, dusty one-horse towns on 93 horses of your own, making a beeline for the coast. You pull the handlebars hard to the right before you hit the bumper to bumper of LA and you're winding through national forests painted with tall, dry pine trees. This is what makes motorcycle camping special; go wherever the road leads you and stop when you feel like it. No clipping tree branches in a rented RV. No blisters from too-small hiking boots, just the freedom to let the road take you somewhere unexpected. But if you're going to spend a night or three on the road (and away from hotel continental breakfasts), you're going to need to gear up.

Here are 5 tips that will get you through any trip across the Golden State.
 
Tip 1: Pack Light
We don't mean pack little. You'll need a healthy amount of gear if you're going to keep your trip from feeling like Cormac McCarthy's The Road, but finding ways to shed weight will make lugging things to and from your bike less of a chore. From your tent to your tools to your cooking gear and utensils, a few grams here and there add up quickly. Plus, if you're saddlebags are too heavy it'll destroy your bike's rideability, which kind of defeats the whole purpose of bike camping in the first place. One thing you don't want to skimp on is extra gas. Small tanks and impulse detours don't mix, so always have enough to get back to the nearest station.


Tip 2: Designate a Saddlebag for Wet Clothes
Whether it's by sweat or rain, you're going to get wet. Keeping everything separate until you can find a laundromat or make it home will make life so much easier. Make sure you have enough layers to keep you warm or cool, depending on weather and the time of day. Plus, you'll know when it's time to emerge from the wilderness when one side of your bike starts to outweigh the other.


Tip 3: Scope Your Campsite
One of the best parts of motorcycle camping is stopping pretty much wherever you feel like and setting up shop. But just because you can, doesn't mean you should. While it's still daylight check to make sure your site is level, clear of rocks and not overly exposed; that picture-perfect cliffside clearing looks nice, but a light breeze now could turn into a cold gale once the sun goes down. Make sure your bike isn't parked over any dry grass; campfires are more fun when they stay in the fire pit.


Tip 4: Tools & TP
Having tools and spares is essential when you're out on the open road and your bike suddenly decides to change your plans. Spare tube, patch kit, tie wire, zip ties, spare fuses, and duct tape will usually get you back home or somewhere to get your issues fixed. Bring plenty of toilet paper, too. The old "mountain money" always comes in handy in a pinch.


Tip 5: Do It For The #rumplxironandresin 'Gram
Our grandfather used to say "If a millennial took a vacation, but didn't Instagram it, did it really happen?" He was a weird guy. But if you take the Rumpl x Iron & Resin outdoor blanket with you on your next trip, we wanna follow you on your journey. Tag us @gorumpl and @ironandresin on Instagram for some of that sweet influencer social currency.