LIMITED EDITION

RUMPL X VANISH COLLECTION
For our newest collab, we're stepping off the trail and heading downtown to try some urban camo on for size. We teamed up with the outdoor life & style media company Vanish, for this killer collection. Designed by local Portland artist Ben Hucke, who makes realistic portraits and abstract textures by applying a painstaking stippling technique with the help of dozens (sometimes hundreds) of black markers, the Rumpl x Vanish collection blends urban style with outdoor performance. Grab Rumpl x Vanish as a Puffy Sherpa, Down Puffy or snag it in Puffy Poncho form and have the street cred of owning the very first printed poncho.
GOING UNDERCOVER WITH VANISH & BEN HUCKE
This camo isn't just for blending in. A long staple of streetwear, camo takes outdoor practicality and transports it to a new environment to stand out among the drab office drones commuting to and from work.
For this collaboration, we partnered up with Vanish to create a unique camo pattern to bring Rumpl blankets off the trail and onto the pavement. Check out excerpts from Rumpl's conversation with Vanish and Portland artist Ben Hucke on the inspiration behind this new collab?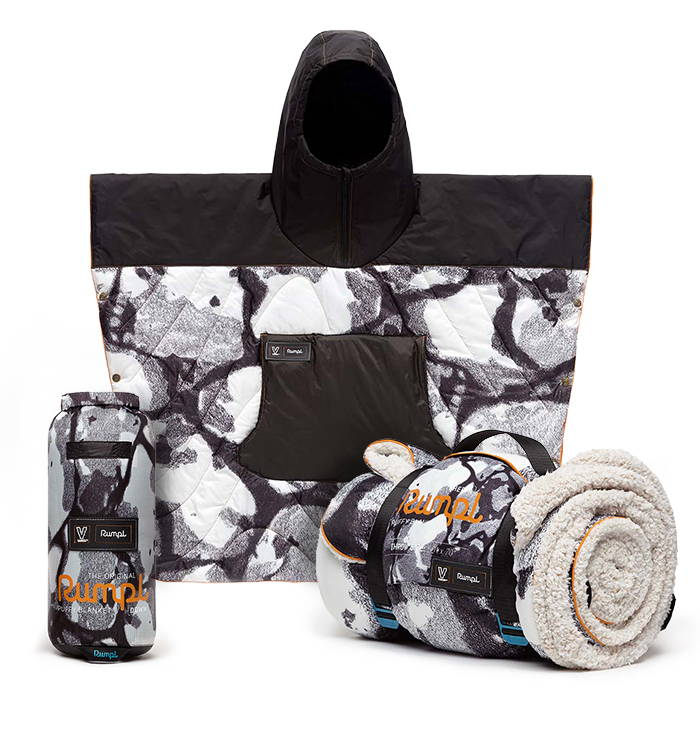 Camo has traditionally been the uniform of hunters and outdoorsmen; what made you want to take it into a more street-inspired direction?
Vanish:
Camouflage is a common element in all core outdoor, urban, fashion and style worlds; it speaks a common language that everyone recognizes, even when the applications are radically different than its traditional concealment function.

What was the process behind designing this particular camo pattern?
Vanish: For the Vanish DPM Exploratory Study we wanted to develop a multiple layered system based on the world's most iconic existing camos - combining the best elements to create a pattern language applicable to both wilderness and urban environments.


Ben Hucke: For me; this print was inspired by patterns found on arctic camo gear as well as the natural camouflage created by a giraffes spots.


Vanish: We selected Ben Hucke because his incredible style and craft elevates a simple camouflage pattern to the realm of high art.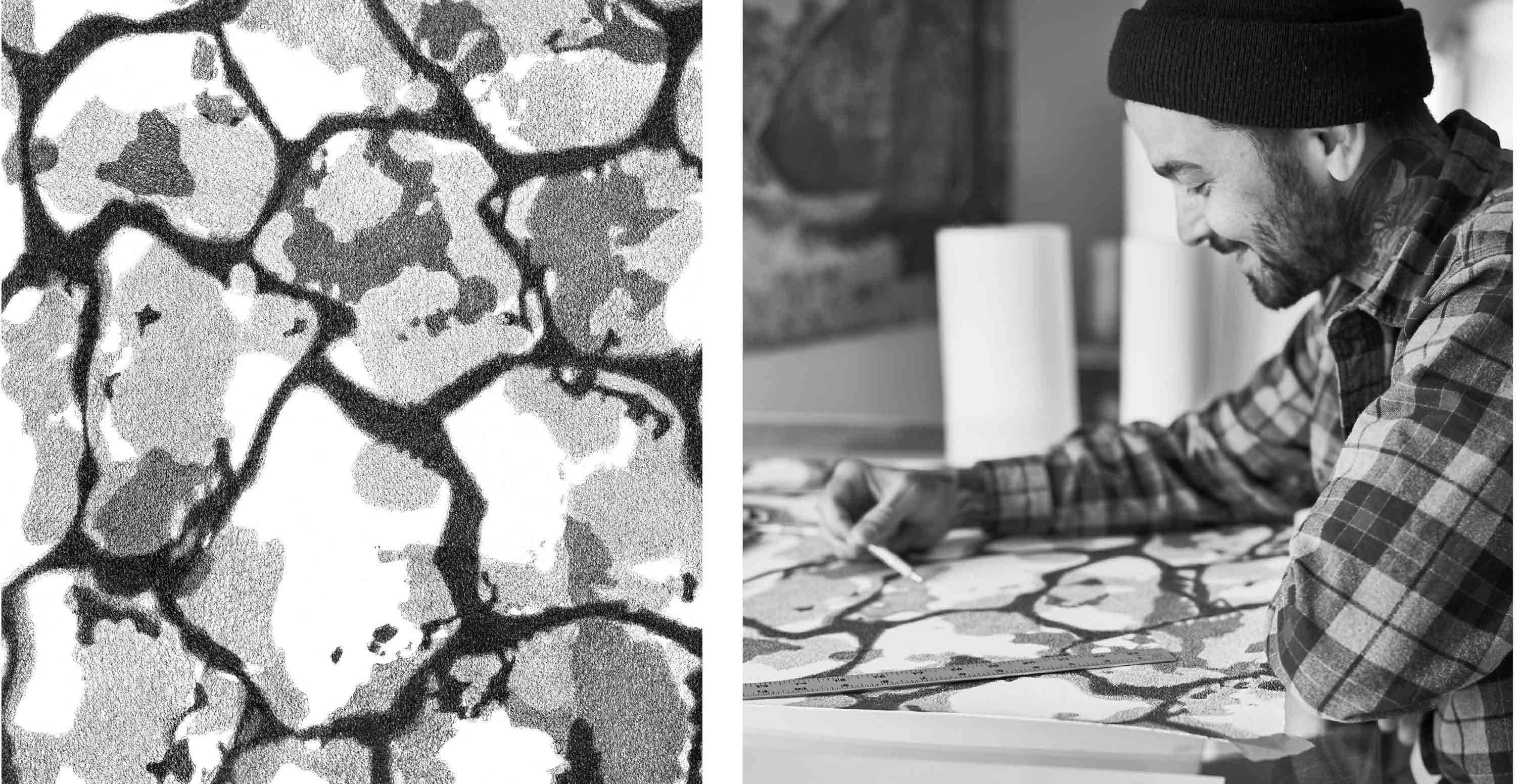 Tell us more about your style and process, Ben? What goes into a piece like this? How many hours?
Ben: With camo designs, I draw straight out of my head. For everything else, I do it mostly working off of a photo reference I've created. Every piece is different; I spend anywhere from ten to hundreds of pens depending on how much time and detail goes into the piece. Same with the hours; anywhere from eight to hundreds of hours.


Ben, you had a previous life as a professional BMX bike rider, how has that career informed your art?
Ben: So, I started riding BMX at the age of 4 years old. I never quit and it turned into my job eventually. It's not easy to get into professionally especially back 15 years ago when no one believed it could be a thing. While I was riding BMX professionally I had a clothing brand on the side, once it took off I started drawing new designs for shirts etc. From there I buckled down and taught myself how to really draw. I drew every day for at least eight hours every single day for a year.
- ABOUT BEN HUCKE -
Ben Hucke painstakingly creates realistic images with the help of hundreds of black markers. Capturing an emotion or memory and recreating it for someone else to feel is what fuels his creative desire.
Follow Ben on Instagram @benhuckeart
- ABOUT VANISH -
Vanish™️ is a media platform dedicated to helping inspire your Outdoor Life & Style. We cover what's new and hot, but we strive to uncover what's next.
Get inspired at www.vanish.today