From time to time we share stories from our customers using Rumpl products in the wild.
Blown Away at Patagonia Lake State Park
As a coordinator for camping trips for the Arizona Adventure Group, Sandy Mattausch frequently supplies and loans out her gear to beginner campers. She gets it all back at the end of each trip, but helps create new Rumpl peeps each trip. To highlight Sandy's awesome adventures, we connected and she told us all about the Arizona Adventure Group's kayak camping trip at Patagonia Lake, AZ. Check out her recap below to see how her Rumpl gear prepared her group for the coziest of trips!
Written by Rumpl customer, Sandy Mattaush
Day 1:
On our intended launch day the wind was insane, with a baseline of 25mph, gusting to 45mph. We loaded gear into the kayaks, and started out towards our camp site. The two foot white caps were daunting, to say the least. I made it across the open water, but two of my fellow paddlers tipped over and had a yard sale of gear in the main channel of the lake. Fortunately, two boats came along to offer assistance in rescuing them, their kayaks, and their gear. One of the paddlers had been carrying two loaner Rumpl blankets for the weekend. You can imagine my relief when they and my puffys were safely pulled out of the water. I don't recommend paddling in winds over 15mph - live and learn, as they say. I made it across the open water, but was stranded on the off side of the lake for 1.5 hours because the wind forced me into a cove, and it was too strong to try and get back out to the rest of my group.
My friends flagged down a really nice guy on a pontoon boat, to come "rescue" me. He was so kind to help, and even offered to take us and all of our gear to our campsite.
Once on solid ground, we hung a few Rumpl outdoor blankets to dry, and began to set up camp. While waiting for the rest of our group to arrive (they'd decided to be safe and wait for winds to die down after dark), we created a beautiful paradise to welcome the rest of our crew by stringing up lights and hanging lanterns in the canopy of trees throughout our campsite. The rest of our crew enjoyed a peaceful paddle on calm waters and under starlit skies to finally arrive at our haven of twinkling lights!
The rest of the weekend was fantastic! Cool breezes, great food, hammocking, and recharging.
Our camp chef, Chris Harbaugh, kept us in the lap of luxury with his cooking all weekend. Dinner's main courses had been prepared with much thought and gusto! The first night was chicken tenderloins stuffed with cream cheese wrapped in bacon with a mushroom cream sauce; fresh green beans, and small buttery, seasoned potatoes, all grilled over the campfire.
Our camp fire was aglow, and it kept us toasty warm as we recalled the days' adventures and trials. We roasted marshmallows, toasted with peanut butter whiskey shots, and told stories until 1:30am.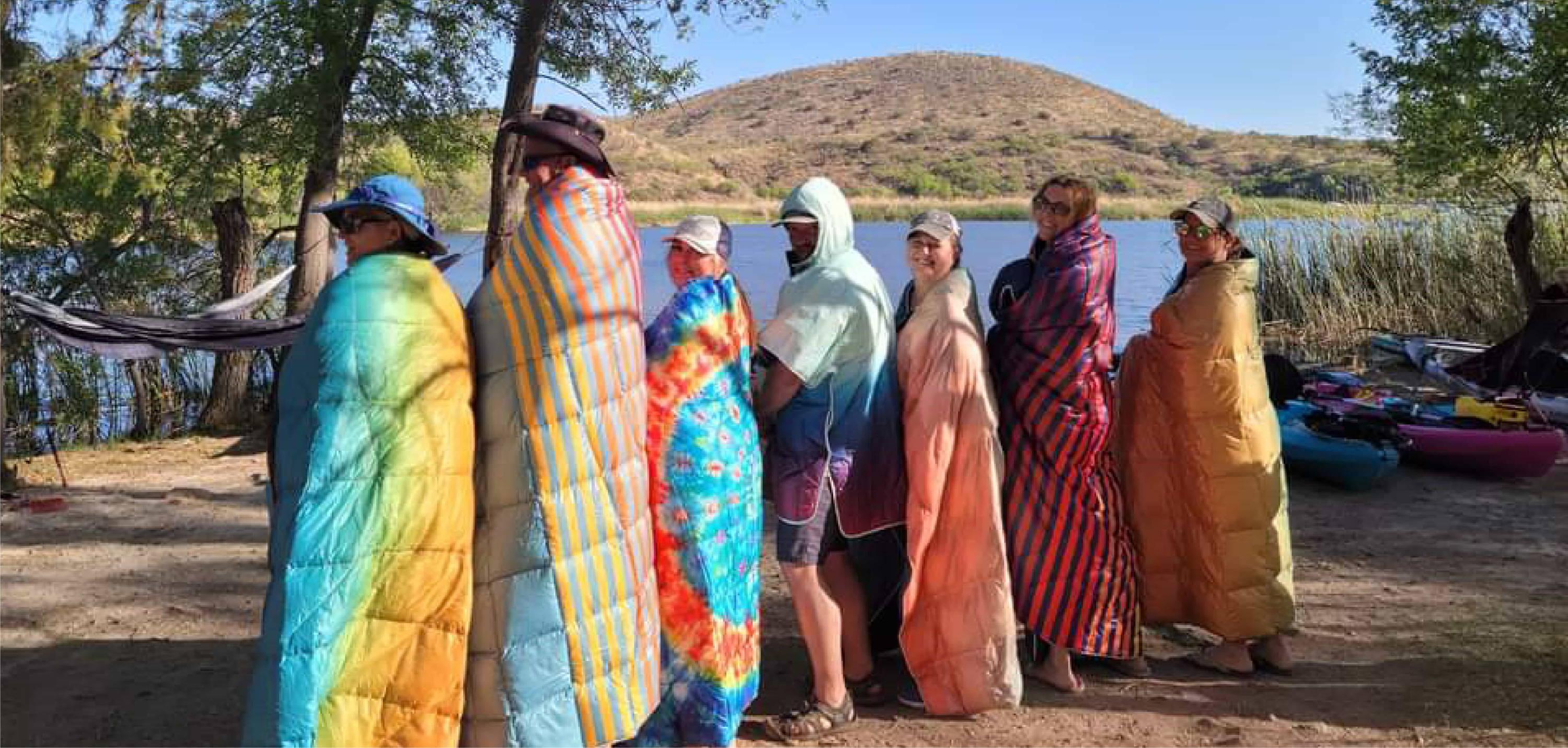 Day 2:
Breakfast included Black Rifle Coffee, bacon, eggs, hash browns and pancakes (even GF ones for me!).
We all spread out and did our own thing. A few peeps went back to the boat launch and gathered more supplies for Saturday's lunch and dinner. A few explored the beautiful lake. I cuddled up in my favorite trusty Baja Fade Down Puffy camping blanket in a hammock, as close to the water as I could get. The only sounds that could be heard at camp were all the songbirds. It was heavenly. I could actually feel my soul being recharged.
Soon, quiet time was over and Carne Asada tacos were on deck for lunch. Lordy, it was delish, cooked over a mesquite fire, with freshly warmed tortillas, and all the fixings including grilled Mexican green onions to top them off.
After such a great lunch, naps were the name of the game for the afternoon. With lots of big trees, several hammocks were strung and napping began. As the breeze picked up, the Rumpl blankets I loaned out began to appear in hammocks across the campsite. It was SOO relaxing!
After a bit, I borrowed a couple of paddle boards so Chris and I could recon the campsite across from us. We explored the site, ultimately deciding that we definitely had the perfect site on the lake for us, no need to make any changes for our fall trip.
Once everyone woke up, we all rejoined and took some fun Rumpl line up pictures. I was glad I was able to loan out some of my Rumpl camping blankets to our newbies. I took a bit of time and explained the differences between the Original Puffy Blanket, NanoLoft® Puffy Blanket, & the Down Puffy Blanket. I showed off my Everywhere Mat, and my Everywhere Towel. I explained the importance of mass vs weight, and re-emphasized good quality compression dry bags. I think they are hooked!
We were treated to some home-grown sugar cane shared by one of our campers. He cut the outer bark off of it and cubed it up so we could each try a couple pieces. It was really cool to try something new from our Vietnamese friends!
Soon it was time to rekindle the fire and start grilling dinner. The main course was grilled burgers that were stuffed with cheese and wrapped in bacon, brats, sweet peppers stuffed with cheese wrapped in bacon, baked beans, and coleslaw. Can you say "food coma"?! Haha. It was delicious, as always. We had round two of smores and sippin' whiskey around the fire. Heavenly...then it was time for bed, cuddled up with my love in a double UGQ quilt, with my brand new 2-person NanoLoft Glacier Rays over us. We were ready for the 4am chill that would come.
Day 3:
Dawn brought the dreaded packing up to paddle back and go home. Booo. I think we will make it three nights on the fall trip, as I didn't want to go home. Everything must go back in a dry bag, as some of the newbies learned the hard way. Once packed up and reloaded in my Oru Coast kayak, we walked over to the other side of camp, to share our final meal together, breakfast provided by our sweet adventure friends! Cheesy eggs, chorizo, tortillas, bacon, mushrooms, cheese, salsa, and a huge fruit salad. Wow, what a way to finish off a beautiful kayak camping trip with our friends from Arizona Adventure Group.
The paddle back to the boat launch was just gorgeous. There was hardly a breeze to ripple the glass reflection on the water. The winds from Friday were forgiven, but not forgotten.
We got to the launch, unloaded and packed into vehicles. I am thankful that a nice lady offered to take a group photo for us to capture our group and an amazing trip!
Arizona Adventure Group's C & H Patagonia Lake kayak camping trip Spring 2022 was a success. I am already planning our fall trip to this lovely lake.
Camp Cheers to: Christopher Harbaugh, Natalie Mastalski, Matthew Green, Dan Johnson, Jennifer Donley, DeAnn Welch, Chass Whipps, Neoh Tudo, Faro