The idea for Rumpl's Original Puffy Blanket was conceived in 2014  on a ski trip in a broken down car on a subzero morning and was designed to combine weight, comfort, and performance into a compact package. Since then, we've created technical, durable puffy blankets for every kind of adventure. From the trail-tested  Down Puffy Blanket to the  NanoLoft® down-alternative blanket, there's a cozy, dependable blanket for everyone.
You might be new to the world of non-traditional puffy blankets, so we're here to outline what makes a Rumpl better than our competitors.
Blankets for Everywhere!
From the campsite to the couch, these puffy blankets go the extra mile when it comes to versatility and comfort. Whether you're enjoying a chill fall night on the patio or RSVP-ing "no" to that one invite in favor of a Netflix binge on the couch, our puffy blankets are made for every adventure, big and small.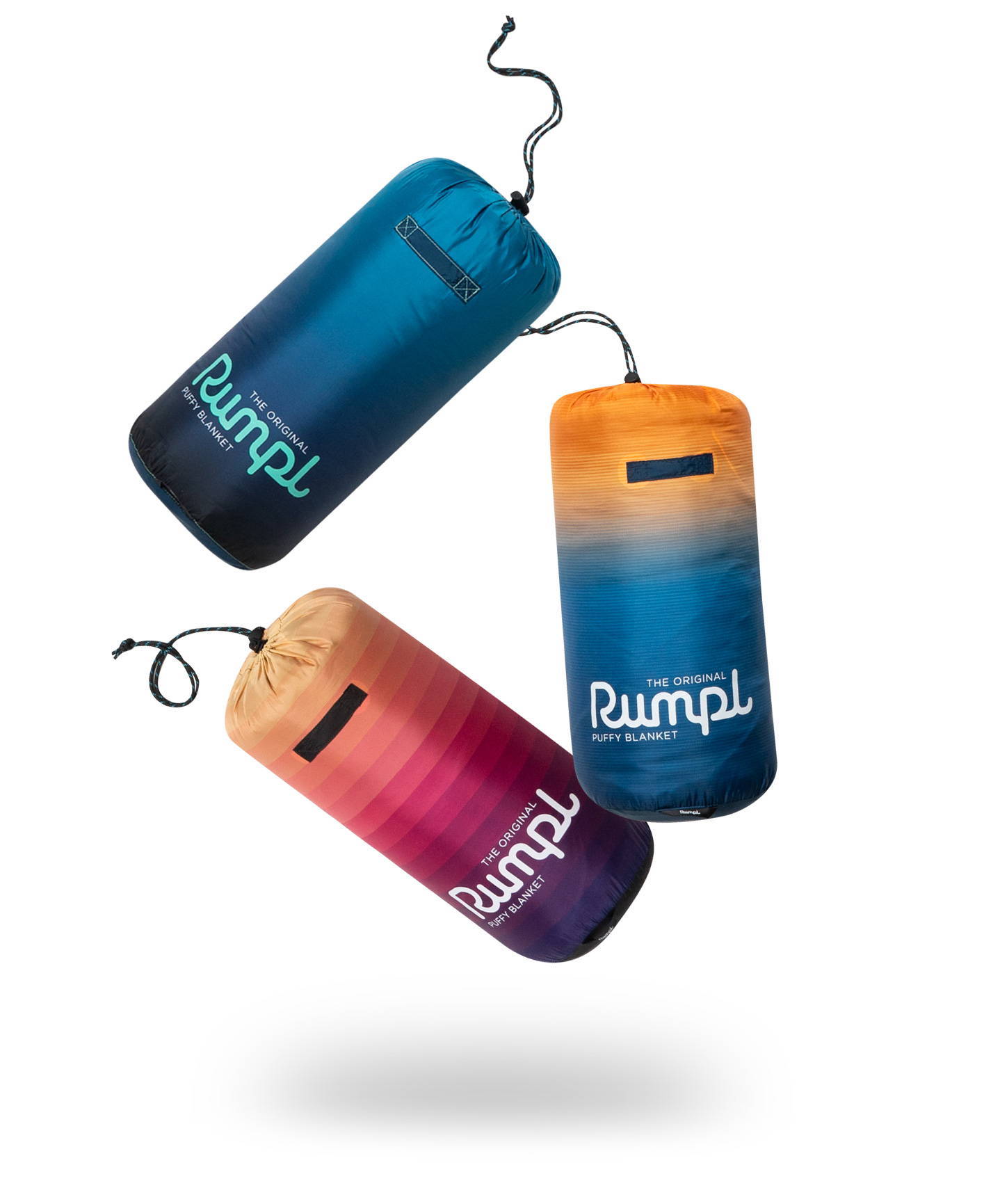 Three Puffy Blankets To Choose From
While we initially created the Original Puffy Blanket utilizing a 100% recycled synthetic insulation, we've branched out to offer several other insulation options ideal for different conditions. We developed our proprietary 100% recycled NanoLoft® insulation, made up of tiny circular fiber clusters that mimic the properties of down feathers. This technology traps warmth inside small pockets of air to preserve heat incredibly efficiently. We of course also offer a true down insulation utilizing 600-fill hydrophobic duck down. No matter your choice in insulation, our puffy blankets keep you warm and cozy, indoors and out, without weighing you down.
Technical Features Set Us Apart
Since our puffy blankets are made for everywhere, making them weather-resistant was top-of-mind in our product development process. Our 90/10 DWR (durable water repellent) finish provides protection from the elements, making our blankets weather and stain resistant. We also added a handy Cape Clip® to all our 1-Person sized puffy blankets, allowing you to wear your blanket hands-free so you can start a fire, drink your beer, or change the channel, all while staying warm. Finally, we added corner loops so you can stake your blanket down at the picnic or stack them on top of our  Stash Mats for the muddiest conditions.
Regardless of how you use your Rumpl, there's a puffy blanket for everyone and everywhere. Find yours here.